The crockpot is an amazing invention. Vince and I have recently been using the crockpot almost every day. We will cut a bunch of veggies and potatoes, throw in some form of meat, season it and add either water or broth and leave the food cook from 4-8 hours having either lunch or dinner ready for the day.
The crockpot infuses flavours and gets the entire house smelling extra yummy. This morning I threw all the ingredients from this recipe into the crockpot and went to my office to work for the rest of the day.

Easy Crockpot Pork Chops
Prep time:
Cook time:
Total time:
Ingredients
3 tbsp coconut oil
¾ cup chicken broth
1-2 garlic cloves, minced
½ tsp paprika
1 tsp dried oregano
1 tsp dried basil
½ tsp herbamere
3 thick cut boneless pork chops
salt and pepper to taste
Instructions
Place coconut oil into a preheated crockpot on low.
Add chicken broth and seasonings and whisk.
Cut a couple small slits along the pork chops.
Sprinkle with salt and pepper
Add pork to crockpot.
Cook, covered on low for 4 hours.
Baste every hour or so.
I had fresh oregano and parsley in the fridge that I used to garnish before eating.
Cutting into the pork chops is a great way to allow the flavours to infuse into the meat and for the liquid to keep the meat moist.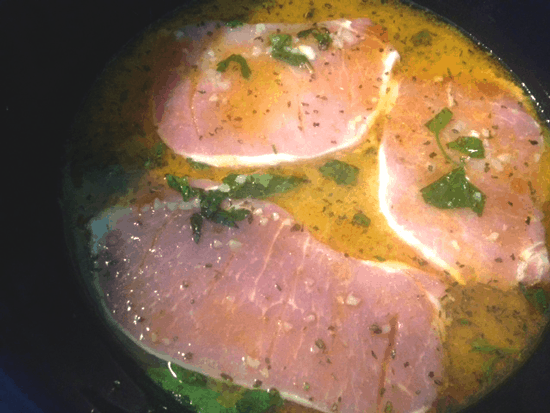 I added about 1/2 cup of small potatoes into the crockpot along side the pork and toped up the crock pot with an extra 1/2 cup of broth to make sure the potatoes and meat were covered in order to cook..
If you are looking for a delicious side to go along with your pork chops you can try Cauliflower Rice, Bean Salad, anything from my recipe library OR a recipe from my new cookbook!
Click here to read all about Flavilicious Cooking: