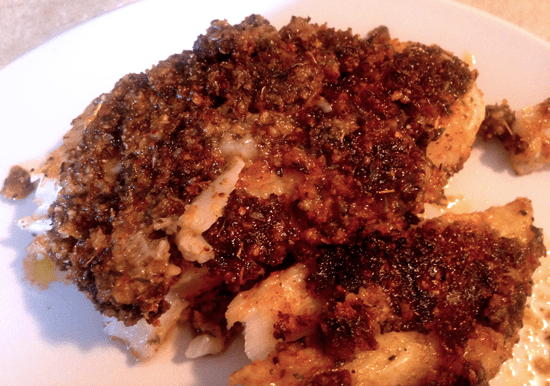 Battered Fried Fish Recipe
Prep time:
Cook time:
Total time:
Ingredients
⅓ cup oat flour
¼ cup paprika
1½ tbsp arrowroot starch
½ - 1½ tbsp cayenne pepper*
1½ tbsp dried basil
1½ tbsp dried oregano
1½ garlic flakes or powder
½ tsp onion powder
½ tsp dried thyme
½ tsp ground pepper
¼ tsp Aztec sea salt
Instructions
To make oat flour: place whole oats into a processor and pulse until very fine.
Mix all ingredients together in a small bowl.
Rub onto fish before cooking.
Cook on medium heat for 4 minutes per side until flakey.
If you prefer to bake, bake for 10-12 minutes at 425 F convection.
Notes
*See FlaviliciousFitness.com for the Full Recipe! Flavia walks you through the steps to make the perfect fried fish.

Save the left over rub in an air tight container or plastic bag for up to one month.
When my family told me they love to eat fish I was thrilled…that is until they showed me the packaged battered fish in their freezer.
This started my mission to create a MUCH healthier version of battered fish that would replace the frozen processed kind. I made my way to the kitchen and put together a few things to  test. I started with oat flour because I love the flavour. Make sure to use gluten-free & wheat-free oats.
Next I mixed in some herbs and spices, trying to replicate the packaged Italian flavours.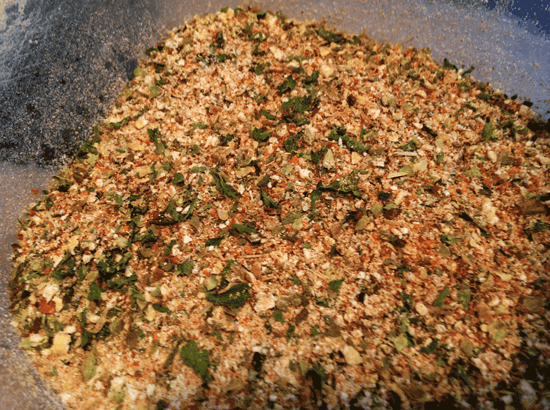 I used flour and starch to create the breading, the spices to give it a kick, while the herbs give a ton of flavour. If you are curious about the sea salt that I ALWAYS recommend for the amazing flavour (yes this sounds odd but until you taste the difference, you'll be missing out), It's called Aztec Sea Salt. Check it out by clicking on the name. See how they cultivate it by hand…super cool.
STEP ONE:
I rubbed a generous amount of rub onto the fish and placed it in the fridge for 10 minutes to harden. You can use the extra rub to bread extra fish then place the extra battered fish in the freezer for later use. Store for two weeks in the freezer.
Tip: Cooking food at room temperature ensures your food will cook evenly.  When ready to prep, dab the fish with paper towel to soak up the extra moisture from the fish.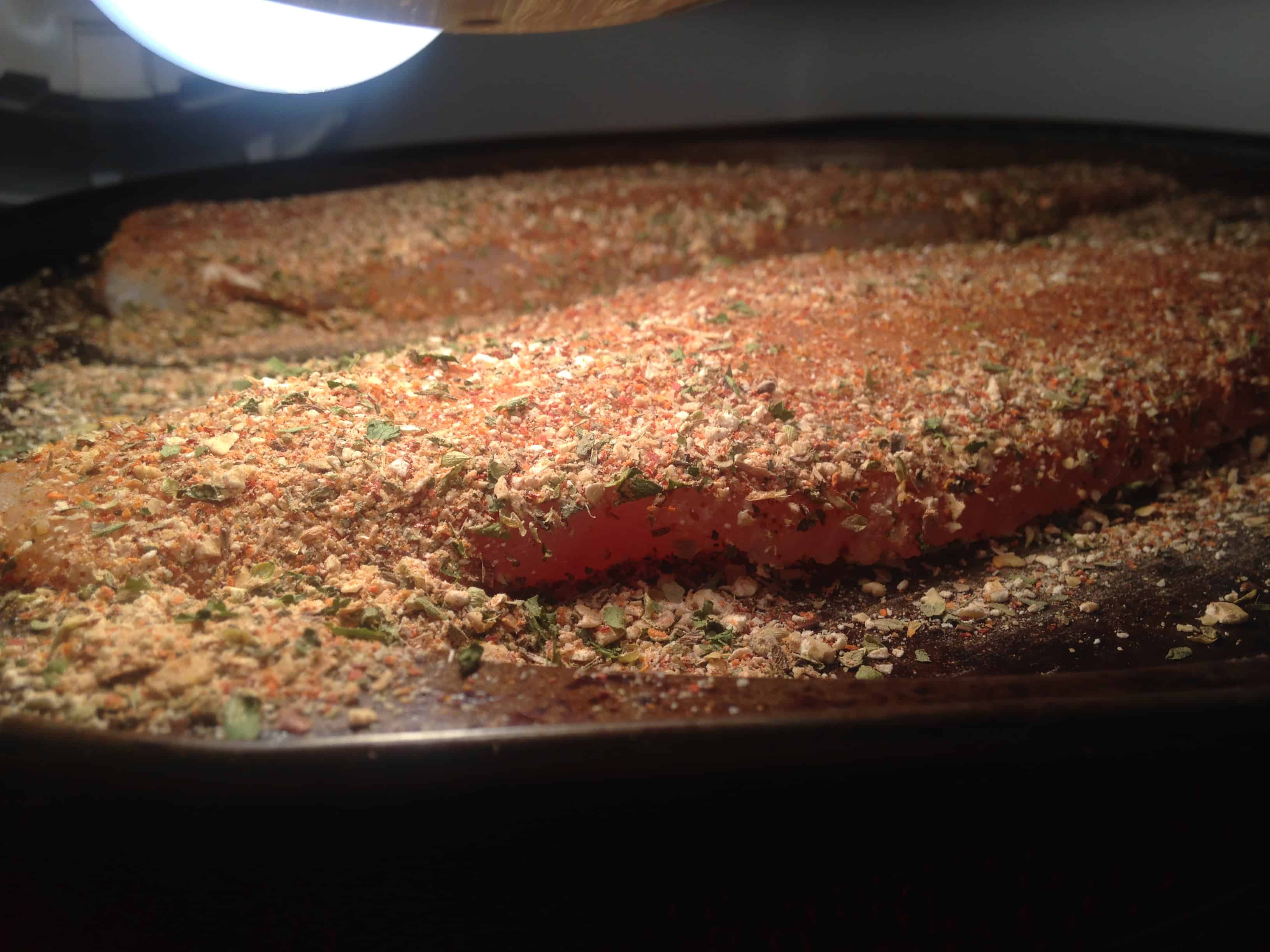 STEP TWO:
At this point, I saw my homemade mayo in the fridge and thought, why not add some moisture to it and perhaps it will help the batter stick better. I took the fish out of the fridge, dipped it in a mix of homemade mayo (1 cup) and lemon juice from one lemon. I then rubbed more batter mix onto the fish and fried it right after.
You can skip this step if you wish. You would then take the fish out of the fridge, rub a little more batter mix on to it, and head straight to the frying pan.
STEP THREE:
Heat the pan with 3 tablespoons of coconut oil before placing the fish in the pan. Cook for 4 minutes a side. If you need longer, try to flip for 2 minutes more each side. Fish is done when flakes easily.
To Bake: Flash fry fish first, 1 minute a side. This makes the fish extra tasty.
STEP FOUR: If you wish to bake
To Bake: Preheat oven to 425 F convection. Place the fish in a shallow baking dish and bake for 10-12 minutes  or until desired crispiness has been achieved. If you are using the mayo and lemon step, you can wrap the foil around the fish and bake for 10 -12 minutes total, or until desired crispiness has been achieved.
That's all folks! Once you are finished frying the fish, you can place it on a plate and serve it with your favourite sides. Today I made it with some delicious Almond Sweet Potato Fries. If you want the sweet potato recipe, let me know below and I will be sure to post it on the blog soon!
Here is the link to these delicious fries:
https://flaviliciousfitness.com/2015/03/12/how-to-make-sweet-potato-fries/
Aztec Sea Salt: This is the only salt that I use in my kitchen! I love it and I really believe you will too!