This healthy condiment recipe is a good substitute for those of you who are vegan and are avoiding soy. If you want to skip out on flavour, take out the rosemary. You can use this on chicken, fish, turkey, burgers, dip… etc.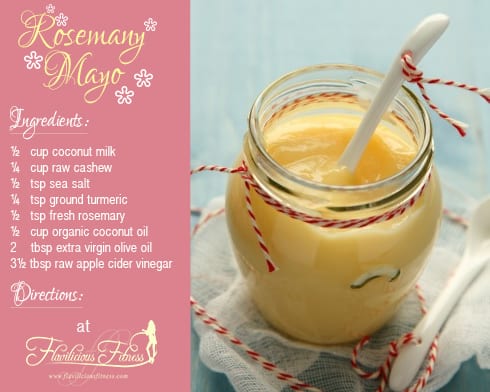 Rosemary Mayonnaise
2017-08-14 13:09:42
Ingredients
½ cup coconut milk
¼ cup raw cashew
½ tsp sea salt
¼ tsp ground turmeric
½ tsp fresh rosemary
½ cup organic coconut oil
2 tbsp extra virgin olive oil
3½ tbsp raw apple cider vinegar
Instructions
Add rosemary and olive oil together in container for flavours, for at least 30 minutes.
When the olive oil is ready, process milk, coconut oil, cashews, salt and turmeric for 2 minutes until creamy.
While processor is still running, slowly drizzle in the olive oil with rosemary and vinegar. Continue to process until oil is emulsified.
Pour into a jar and refrigerate for at least 1.5 hours before using.
Flavilicious Fitness https://flaviliciousfitness.com/