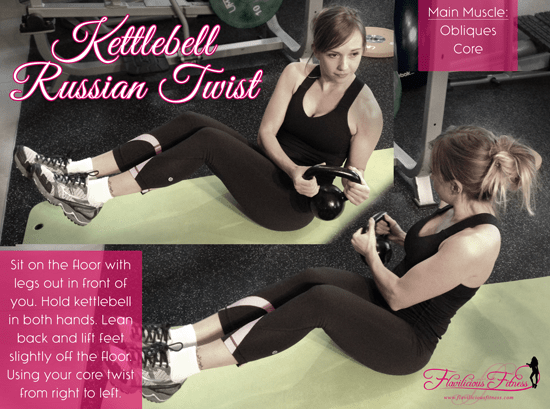 Kettlebell Russian Twist

How To: Sit on the floor with legs out in front of you. Hold kettlebell in both hands. Lean back and lift feet slightly off the floor. Using your core, twist from right to left.

Main Muscles: Obliques, Core
March is Fat loss Madness Month! We want to focus on shedding those pounds as we work on our summer bodies.
This exercise can also be done using a dumbbell. Be sure to keep your core tight throughout the movement to prevent lower back discomfort. If you are a beginner, start with a light weight or medicine ball and place heels on the floor to help you balance. The more you work on your core, the stronger you will become and the easier this will be for you.
AVOID heavy weights when working the obliques as this may cause your waist to thicken; not what we as ladies want. Keep the weight light and repetitions high. Try for 3-4 sets of 25 each way.
Incorporate this exercise into one of these Fat Loss Madness Workouts:
 Kettlebell Extreme Weight Loss Workout