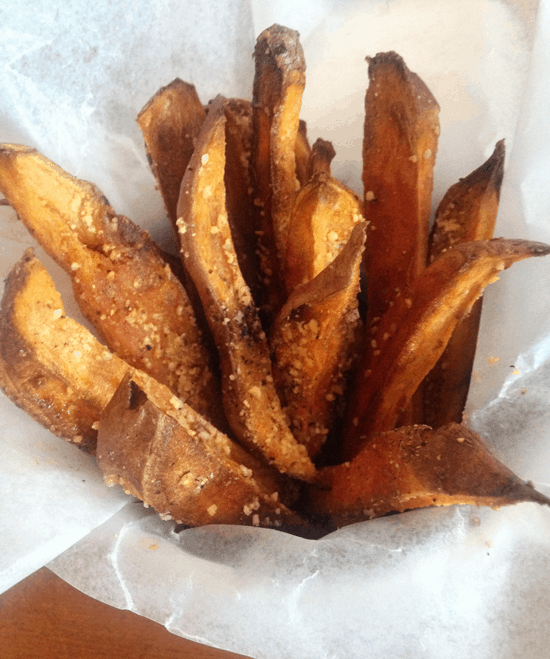 Hi there,
Last week I posted my Spicy Battered Fish Recipe and mentioned that these almond crusted sweet potato fries were going to be my side dish.  I had many people asking if I could post the recipe so here it is!
Vince loved these crispy fries and you'll see why very soon.

Almond Crusted Sweet Potato Fries
Prep time:
Cook time:
Total time:
I hope you enjoy this easy, tasty and healthy side. My family asks for these every week...soon you'll understand why.
Ingredients
2 large sweet potatoes
2 tbsp coconut oil, melted
½ cup almond Flour
Pinch of Aztec Salt (see why I use this salt below)
Pinch of black pepper
Dash of all seasoning spice such as Herbamare (Optional)
Instructions
Preheat oven to 400F convection.
Chop sweet potatoes into slices resembling fries.
Add oil and sweet potato into a large ziploc bag and toss to coat the fries.
Place almond flour into a pan over medium heat and stir until the flour turns brown.
Remove from heat and place into ziploc bag with the oiled sweet potatoes.
Add salt, pepper and seasoning to the bag and shake.
Dump the potatoes out onto a baking pan and arrange them so that they are evenly spread.
Cook for 40 minutes or until desired crispiness has been achieved.
If you don't have a convection oven, turn each fry at 20 minutes.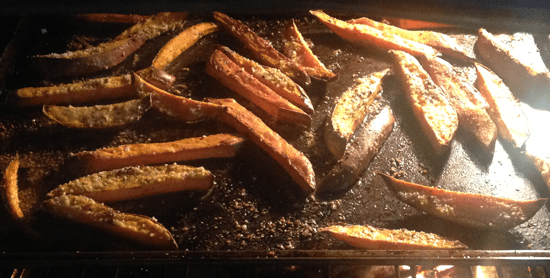 I like using a ziploc bag to coat the fries to ensure even distribution to each fry. It makes clean up a lot faster too. Look for an organic all-seasoning as they seem to be much fresher.
Thank You for visiting my blog! I hope you enjoyed these tasty fries. Please let me know what you think and what you would like to see more of 🙂
My favorite Sea Salt brand is Aztec Sea Salt because it is 100% natural and unrefined. I also has a lot of flavor which means you do not need to use as much when you're cooking.
Check it out by clicking here: