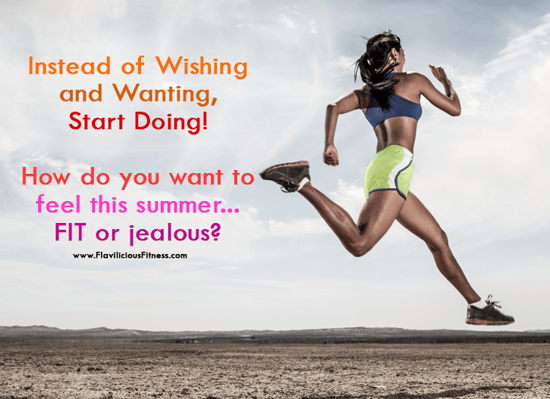 Instead of Wishing and Wanting, Start Doing!

How do you want to feel this summer…FIT or jealous?
Hi Everyone,
For those of you who live in summer weather all year long, this would not apply to you 😉 But for those of you like me, we have a long winter season making it easy to become lazy. The summer is a huge motivator for people who live in colder climates to get into good shape. We look forward to wearing less clothing, being outside all day long, swimming, camping, sports…etc.
Most people set goals to reach by the time the warmer weather sets in. There are about 12 weeks before the shorts and summer dresses come out. Here's to dreaming there will be a lot less than 12 weeks (as I take a gulp of my protein mocha)!
Summer is certainly a time when I want to look my best. As you all know I am having my second baby (I announced that in one of my emails last week), which means no abs this summer 🙁 But I still want to make sure I am not going to gain too much weight. I am continuing to strengthen my body to support the baby as well as have a good delivery. One goal is to keep my legs tight throughout this pregnancy.
Don't worry, I am not going to leave you hanging. I will still be around motivating you, encouraging you, sending you tips, tricks, recipes and workouts that you can do to prepare yourself for the hot summer months.
I hope this Motivation Monday post finds you well and that it encourages you to get up and get moving today. Do you like motivation on Mondays? Comment below and tell me what will help motivate you.
If you missed my email this past week and want to make sure you don't miss anymore, sign up for my email right below this post in the pink box. Email is where I get really personal, send you private sales, and write my latest and greatest information.
Have a great day! And we will chat tomorrow 🙂