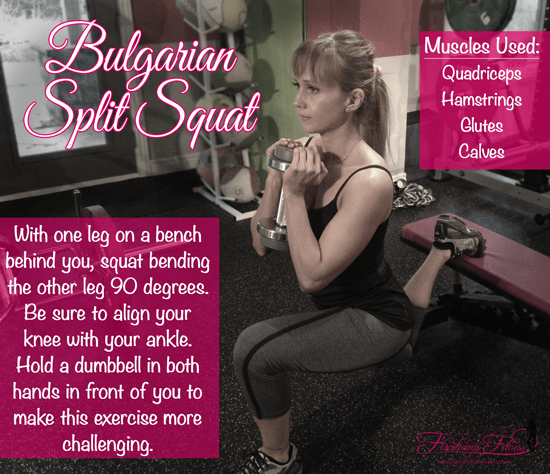 Bulgarian Split Squat

How To: With one leg on a bench behind you, squat bending the other leg 90 degrees. Be sure to align your knee with your ankle. Hold a dumbbell in both hands in front of you to make this exercise more challenging.

Muscles Used: Quadriceps, Hamstrings, Glutes, Calves.
Happy Fitness Tip Tuesday!
If you want to tighten your legs, get rid of cellulite and give that butt a lift, this is the exercise to do. The best part is you can do this at home! If you want to really shape your legs and butt, keep adding more and more weight while decreasing the reps each week and for now, start with bodyweight and aim for 3 sets of 10 reps.
Workout:
Here is a great workout (video) that you can incorporate this workout into: Slim & Tone Legs
Post Workout:
Your challenge today is to make an amazing tasting shake within 30minutes of your workout. I have some great ideas already started for you: