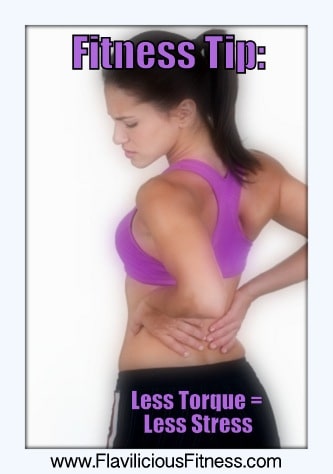 As a newbie to fitness years ago, I remember taking fitness classes at an all-women's gym. The classes always involved a ton of abdominal exercises that always ended up hurting my lower back and neck.
Exercises that target the lower abdominals often involve raising your legs, such as the leg raise off the stability ball in Curavlicious. Experiencing pain in your lower back is caused from the distance between your feet and your body. The further your feet are away from your body, the greater torque. Or simply, the greater distance your feet are away from the body the more stress will be placed on your lower back.
TORQUE – PUSH OR PULL THAT CAUSES MOVEMENT AROUND AN AXIS                (in this case the axis is the lower back)
Think about torque for a moment. If we are holding one arm straight out to the side, there is a large distance between our hand and our torso. We know that the farther a body part is away from the rest of the body, the greater the torque. You can hold your arm out straight to the side for quite some time, but what happens when you add a 5 pound dumbbell? That position becomes much harder to hold.
Now bring that same arm with the dumbbell and hold it against your body.  You can hold that position a lot longer because there isn't a great amount of torque.
WHAT CAN YOU DO TO STOP OR PREVENT LOWER BACK PAIN WITH LOWER AB EXERCISES
1. Build your core strength.
2. Simply bring your legs in closer to your body by bending at the knees. Do not extend your legs fully and stop just before you feel your lower back engage.
3. Perform lower abdominal exercises on a dip station or captain's chair. Keep your position vertical will create less stress on your lower back.
See also: Ab Toning Exercises, Make sure you are NOT doing this!