Strive for progression not perfection.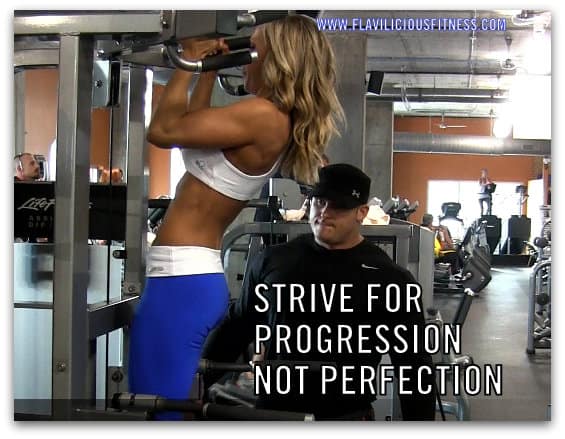 We are back with Motivation Monday! After receiving a lot of your emails over the past week or more I wanted to pump you up and keep you motivated to keep up with your workouts. I know Curvalicious is not easy, and I did not want it to be! I made Curvalicious for you to get stronger, leaner and shapely. This doesn't happen overnight as you all are well aware. What I want you to focus on is PROGRESSION!
Please do not worry if you are on week two still doing one set, guess what — YOU ARE MAKING IT HAPPEN — you are at the gym or in your home gym working out. That is more than half the battle. Give yourselves a huge pat on the back and KEEP GOING!
I am so proud of you! How many people do you know that work as hard as you do? You are amazing! Don't let your head tell you any different. Strive for progression, not perfection. Is there even anything that you can say is perfection? Every week you will feel stronger, you will do a ball ab exercise that you weren't able to do the following week or you will see your thighs start to slim down. That is progression and that is awesome!
Give it all you have ladies. Think of how strong your abdomen will be…ha! I know those friggin stability ball exercises are KILLER, but you will reap your reward.
Have a great week and look forward to more posts and an exercise video this week!