After 4 months of hard work, the

Curvalicious Workout and Nutrition

P

rogram

is here!
The entire system is available at a HUGE discount and is available for $37. You can get everything here:
Here is what you get for ONLY $37: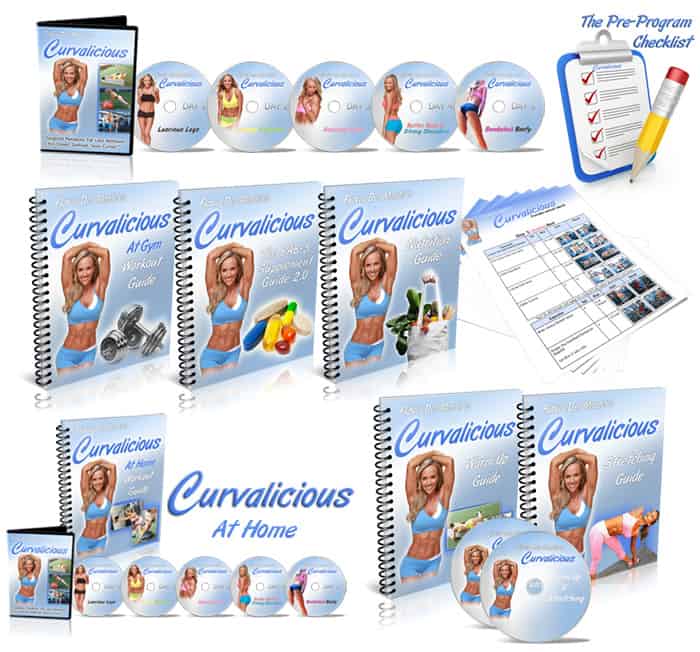 1. The Complete 5-Day Online Workout Videos – featuring every major muscle group to get your sculpted -HOME AND GYM VERSION!
2. The At-Gym and At-Home Workout Manual or the "blueprints" to everything you must know about making this program work for you.
3. Curvalicious Nutrition Guide – You'll learn about CURVE meals to gain lean muscle, CONTROL meals to balance your hormones & CUT meals to burn fat!
4. Printable Workout Sheets to take with you WHERE EVER you go. There are pictures of the start and finish position to keep you on track with every exercise. Plus you can make notes on the sheets so you can know what weight you did the last week.
5. Dynamic Warmup Video and Printable Sheets – lean how to warm up to prevent injuries and stimulate the nervous system to get the most out of your workout.
6. Stretching Guide Video and Printable Sheets – a 10-minute stretching video for every body part to cool you down.
7. Fab 5 Supplement Guide 2.0 – Find out the right supplements that will accelerate your results with healthy supplements to ensure your body is getting all the needed nutrients for your workouts.
8. The Pre-Program Checklist – you'll be able to track your results to change any part of your workout as needed. If you don't write down what you are doing, you won't be able to make the proper adjustments to advance. Here you will be able to see everything super easily and track your results effortlessly.
PLUS THERE ARE DAILY BONUSES FOR YOU WHEN YOU PURCHASE!
Get your copy here: www.curvaliciousworkout.com/
What Is The Difference Between FULL-BODY-LICIOUS

and

CURVALICIOUS?
FULL-BODY-LICIOUS is a full body 5-day workout program consisting of intelligently designed 60-minute fat loss workouts to slim down or shape up. Each week cycles through five different full body workouts and each workout gives extra attention to key body parts that contribute to a flawless figure. By the end of the week you've hit all your major muscle groups five times with multiple angles, exercises and "advanced" fat burning techniques and tricks.
CURVALICIOUS is a 5-day workout program consisting of intelligently designed 40-minute metabolic fat loss workouts while targeting a different body part each workout. It relies on a variety of rep ranges (including lower reps with heavier weights) to enhance your neurogenic muscle tone – the only type of tone that gives your muscles beautiful definition!
FBL works with lower weights and higher reps to increase calorie burn. These workouts are perfect for rapid fat loss and stimulating muscle tissue in the same workout. These are full body workouts dedicated for fat loss.
CURVALCIOUS works with both lower weight and heavier weights to stimulate NEW calorie burning muscle tissue. The workouts are body part specific so you will only target a couple of muscle groups within each workout. CURVALICIOUS is dedicated to helping a women truly "tone" their muscles by hitting the two types of tone in a muscle, "Mygogenic and Neurogenic".
If you want the fit, athletic look instead of the skinny shapeless look, you will want to check out the Brand New workout system CURVALCIOUS.
Both are great workouts that you will get you the body of your dreams. They were written by a female, for females!