Hey everyone!
Back in Feburary, I created a mini version of FULL-BODY-LICIOUS. I recruited 95 females who used my exercise and nutrition program for six weeks and the results were astounding. Meet the Flavilicious Females!
Fitness Motivational Pictures
Cat
BEFORE AFTER
Hi Flavia, Already I am feeling so much stronger and healthier. I have to go out and get new sizes of clothes….not a bad problem to have. Thanks again….I loved this challenge. It was soooooo worth my time and effort. Your program is excellent and I have become a spokeswoman for your product 🙂
At 50 I had become flabby. Over the years my weight had slowly but surely increased significantly; it's amazing just how much you can hide over almost 6 feet in height! When Flavia's nutrition and exercise program challenge arrived I was more than ready! The eating plan was very practical (except for those veggies in the morning….sorry Flavia!) and satisfying; the exercise plan was challenging and full of variety. (The stability ball eventually became stable with practice!) The results speak for themselves……16.8 pound weight loss and 4″ from my waist alone. I am more fit and healthy at 50 than I have been in a very long time. I plan to continue on…thanks Flavia for the challenge and may God bless you big time in your launch of this excellent product!
Ca
Christy,
Total weight loss: 10 lbs
Inches from waist: 3
BEFORE
AFTER
Participating in the Flavilicious program was an amazing and encouraging experience for me. By the end of the 6 weeks I had lost 10 lbs and 3 inches from my waist and I really learned how to take care of myself physically. This is the first fitness and nutrition program that I have been able to stick with the entire time and that I am confident I can continue following. I really enjoyed the large variety of exercises and being able to learn new and effective movements that I had never tried before. I've come away from this program truly understanding that losing weight and being healthy is not simply a short term goal, it is a lifestyle and a choice, one that is truly achievable with hard work and great support. Thank you Flavia!
Christy
Janna, Minneapolis, MN
BEFORE AFTER
I am SO ready for the next program or more workouts. I lost 18 pounds. I have SO much more I want to accomplish and don't want to lose what I've gained so far. I felt like I made good changes when I look in the mirror. In the last week, I've finally seen change in my legs with more muscle definition and losing about an inch around. I never missed a workout and ate the way I was supposed to 99% of the time.
Thanks for all your help.
Janna
Anastasia, UAE, Dubai
BEFORE AFTER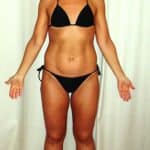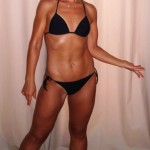 Hey Flavia!
My results in 6 weeks…dropped 3kg of fat…few inches here and there…from 25% to 22% of body fat. Not bad! Now I am setting new goals! Thx for your support and advice Flavia!
Anastasia
Lindsay, Iowa USA
BEFORE AFTER
Flavia,
Thank you for letting me be a part of your test group. I have learned so much especially in nutrition. I am very excited to start your next program. I have sent you before and after pictures and my testimonial. I hope you are proud. Membership to a gym isn't an option for me having 3 little children. Why I love Flavia's program is because I can do it at home or on the road (which I did). I could see the results right away. The exercises are diverse and targets all areas so I never got bored. The nutrition program was all new and extremely interesting. I learned to eat in a completely new way. Nutrition is my weak area but the knowledge I have gained is amazing! I will never eat the same. I could see my abs in one week of following Flavia's program. I lost 1 inch off my rump in 1 week and 2 inches off my thighs in 1 1/2 weeks. My love handles were gone within the second week. Flavia has designed this program so that anyone can be successful!
Lindsay
Kelsie, Aventura, Florida
BEFORE AFTER
Overall, I've lost 3 inches (my clothes are so much looser on me) and 2 pounds:) I have been really good with eating/exercise. I am still working my way to perfection. Thank you for the head start. I am excited to continue your program. Thank you so much! You truly are amazing and so inspiring 🙂
Kelsie
Britanie, Ontario, Canada
I have had excellent results from your program! I have lost 10 lbs! I look and feel fantastic! Cutting out flour and sugar has left me with a ton of amazing energy! My muffin tops, chub around lower back and stomach are completely gone! YAY!!
I have tried for 3 years to get rid of my belly fat and nothing worked!! Thank you so much for allowing me to participate in your fitness program! What an amazing opportunity for me! You have blessed me!!
Thanks so much! Sending you a big hug!!!
Brit
Giuliana, Toronto Canada
I have definitely been having fun trying to keep up with the workouts and switching up my routine now and then. Within days I saw results, I actually had upper body strength!
Giuliana
Rosetta, Guelph Canada
I have had great results using Flavia's program. Many have commented on my leaner look. I am fairly lean to start, but have belly fat to spare. Using Flavia's program, I lost 6 pounds and I do like my flatter stomach. I plan to keep incorporating the nutrition ideas and will continue with the fury circuits. Believe me, Flavia's plans will work, if you work them. Thank you Flavia for all your encouragement and belief in us.
Rosetta
These next two ladies wrote me early on in the program and here is what they had to say from the beginning.
Tara, Brantford Canada
Hi Flavia, well so far so good here I am just starting week 2. I really like having my workouts laid out for me. They are very challenging but I took your advice and only started out with 2 sets so far;) the meal plan is the most challenging for me, but I am sticking with it, 1 meal @ a time! week 1 I have lost 2.2 lbs and I am taking measurements as well which are going in the right direction! Thanks for your words of encouragement!
Tara;)
Brenda, Auburn, California
Hi Flavia,
I just wanted to give you some feedback-this workout is kicking our butts! I am doing this workout with my daughter, just started with this being our second day, and we are wiped out. I love it! Thursday we do day three, looks like it will be a tough one too. When I can feel the effects of a workout a couple hours later, I know that I have worked my body good.
Thank you so much for giving us this opportunity to try out your program.
Take care, Brenda