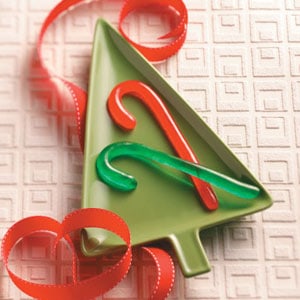 *Photo by Taste at Home
Homemade Candy Canes (Tasty Thursday)
Ingredients
1.5 cups coconut sugar (dark colors) or honey (light colors)
¼ cup brown rice syrup
2 tbsp water
¼ tsp peppermint extract
A couple drops of natural food coloring (I used red & Green)
Instructions
Preheat oven to 200F
Line 2 cookie sheets with parchment paper
Combine sugar or honey, rice syrup and water to a saucepan and stir until sugar is dissolved. Continue to stir over heat until you reach about 285 degrees.
Remove candy cane from heat and stir in peppermint extract & coloring. I separated them into 2 and added red to one and green to the other.
Pour half (green) onto one of the prepared baking sheets and place into the oven to stay warm to work with later.
Pour the other half (red) onto a flat top such as a cutting board and let cool, spread with a well oiled spatula. Let cool until you see a light film appear, like a skin.
Once mixture has cooled enough to touch (but still warm), begin 'pulling' the mixture with well oiled hands. You have to fold and twist for a while to get a nice opaque look and form into rope-like sticks.
Place the pieces onto the second prepared baking sheet and place into the oven. Turn oven off and pull the other sheet out.
Do the same thing with the second batch that you just pulled from the oven. Pull and create rope like stick shapes just like the first batch.
At this point you have 2 sheets each 2 different colored sticks. To create a candy cane, combine one green and one red stick together, twist and bend into desired shape.
The candy hardens at room temperature so if you need to place it in the oven to soften that is ok.
Once you are finished and they are hardened, bag them or keep them wrapped until eaten.
Notes
**Use crushed candy cane for Candy Cane Marshmallows. Here is the link to the recipe: https://flaviliciousfitness.com/2014/12/11/easy-marshmallow-recipe/