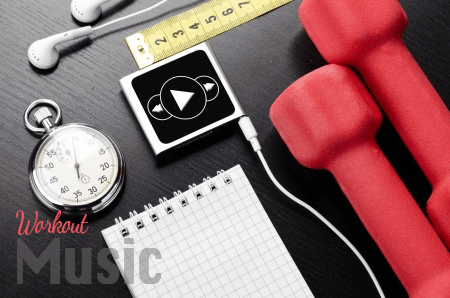 Studies have shown that the music we listen to engages a wide range of neurobiological systems that affect our psychology. Our brains are wired in such a way that when we listen to music we subconsciously connect it to how we are feeling. We allow our brains to be influenced by what the singer is saying and what instruments are played. If the music is fast and loud we get energetic and want to move. If it mellow and soft we tend to feel relaxed and calm. Have you noticed when babies hear music right away they want to sway or bounce? Then when we want to put them to sleep, we sing lullabies to them.
There are many ways to help motivate yourself to become a healthier you. One way is reading about others success stories, or quotes and even looking at pictures of women we look up. These tips really do help A LOT, but once it is time for that scheduled workout we tend to push that picture underneath a book and go out to the movies instead. So what can we do to say yes to the workout. What will help us be pumped up to lift weights? Could music be the answer?
If I can listen to music before I go to bed to help relax me or put on some beats to get me into a dancing mood, why shouldn't I put on music to help get me off the couch and into the gym. I think this is a great idea. I'm thinking songs like 'survivor' or 'Independent Women' by Destiny's Child to get us into the groove. Once we are there that is a whole other ballpark.
Let's talk about music that will make us go harder and stay moving once we do get to the gym. I believe that if we have something telling us to go go go, we can push that little bit extra. When I am working out, the song that is playing in my ears will always help me give a little extra push. Why? Because it is fast, it is positive, it is encouraging, it is making me want to prove to myself that I can do this.
1) Positive Message – Make sure the message coming across is positive, you want to feel good about yourself, about your life and what you really want for yourself. You want to be uplifted and encouraged.
2) Fast Paced – If you choose slow, calm, mellow music you will find yourself moving slower. This does not encourage your energy leave to spike, instead it calms you and relaxes you. Find something that is upbeat so that you can move along with it.
3) Listen to the beat – When we are moving while there is music on, we tend to move along with the beat. If it is slow, we slow dance, if bouncy, we bounce and shake our booties. Try to get something that will help keep you at a good pace and encourages you to do high intensity training movements.
My Top 5 Favorite Songs to listen to while working out (at the moment):

Almost any Deadmau5

I'll Fly With You by Gigi D'Agostino

Roar by Katy Perry

Wide Awake by Katy Perry

Evertime We Touch by Cascada