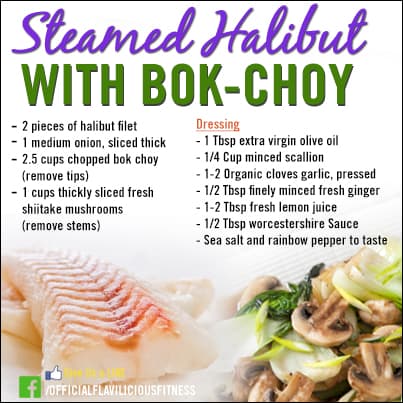 Tasty Thursday - Steamed Halibut with Bok Choy
Ingredients
2 pieces of halibut filet
1 medium onion, sliced thick
2.5 cups chopped bok choy (remove tips)
1 cups thickly sliced fresh shiitake mushrooms (remove stems)
Dressing
1 tbsp extra virgin olive oil
¼ cup minced scallion
1-2 organic cloves garlic, pressed
½ tbsp finely minced fresh ginger
1-2 tbsp fresh lemon juice
½ tbsp worcestershire Sauce
sea salt and rainbow pepper to taste
Instructions
Directions:
Slice onion, chop bok choy, and press garlic.
Mix together dressing ingredients in a bowl and set aside.
Add 2-inches of water to steamer and bring to a boil.
Sprinkle a pinch of salt and white pepper over halibut before steaming.
Layer the onion, mushrooms, and halibut (in this order) in the steamer basket.
Cover, and steam for about 3 minutes.
Add bok choy and steam for 3 more minutes
Serve on a platter with halibut nestled on top of vegetables
Drizzle dressing over all of it.