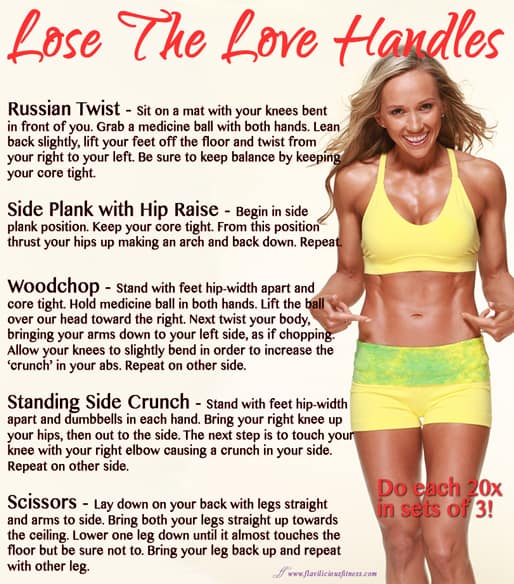 Side Plank with Hip Raise – Begin in side plank position. Keep your core tight. From this position thrust your hips up making an arch and back down. Repeat.
Woodchop – Stand with feet hip-width apart and core tight. Hold medicine ball in both hands. Lift the ball over our head toward the right. Next twist your body, bringing your arms down to your left side, as if chopping. Allow your knees to slightly bend in order to increase the 'crunch' in your abs. Repeat on other side.
Standing Side Crunch – Stand with feet hip-width apart and dumbbells in each hand. Bring your right knee up your hips, then out to the side. The next step is to touch your knee with your right elbow causing a crunch in your side. Repeat on other side.
Scissors – Lay down on your back with legs straight and arms to side. Bring both your legs straight up towards the ceiling. Lower one leg down until it almost touches the floor but be sure not to. Bring your leg back up and repeat with other leg.