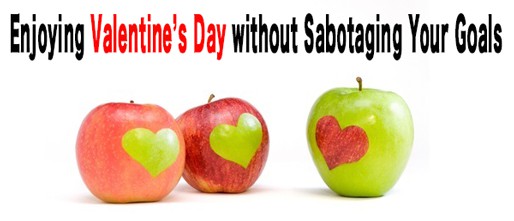 Every woman should be able to fully enjoy Valentine's Day without having to worry that she's completely sidelined her fitness and weight loss goals. She also shouldn't feel that she has to starve herself for a week to make up for it.
Part of loving your body (which includes your heart and your mind) is allowing yourself to enjoy the little pleasures of life and not ganging up on yourself later. What better day to do that than Valentine's Day? Give yourself a little Valentine happiness by following some of these tips for enjoying Valentine's Day without sabotaging your goals, without feeling guilty and without doing penance later.
These tips all boil down to one (or more) of these keys: substitution, moderation and preparation.
Gifts that are sweeter than candy
If your man (or family) usually likes to gift you with a big box of expensive chocolates, let them know that you'd really appreciate one of these gifts instead; A new haircut, a mani-pedi or a facial at your favorite salon. These will run about the same price as expensive chocolates, but last much longer and without adding a single calorie to your intake.
Maybe you'd rather have a gift certificate or gift to your favorite athletic clothing store so you can pick out a great new workout outfit. Not only will you not sabotage your fitness goals, you'll also have a little extra motivation to work out.
Along those same lines, a gift card to your favorite lingerie or clothing store will allow you to pick up a pair of jeans or a bathing suit in the new size you've just reached or in the size you're shooting for.
Some other great substitute gifts might be a subscription to your favorite fitness magazine, some new workout music, a session with a personal trainer or a new juicer. All of these can inspire you, motivate you and help you not only stick with your goals but reach them even faster.
Active date nights
It's fairly traditional to be taken out for dinner or maybe dinner and a movie on Valentine's Day, but your special date doesn't have to focus on eating too much and then sitting on your backside. This is especially true if you're going out with girlfriends rather than on a date. Why stick with dinner out just because it's standard?
Tell your honey you'd like to try something a bit more fun for Valentine's Day. You can have a body-friendly, more active date and have much more fun while you're at it.
Maybe you could spend the evening at the skating rink, go for a moonlight hike in a local park or just go dancing.
If you don't feel like breaking a sweat on your Valentine's date, you can still take the focus off of going out to eat. How about spending a couple of hours at a neighborhood arcade? If you're both competitive, you can have an awful lot of fun making Valentine wagers over an air hockey table.
The point is that there are a lot of things you can do that don't involve a restaurant and will end up being more fun anyway. Romance doesn't have to be so serious, either. Laughing together is sexy and intimate and wipes away the stress of the rest of the week, so don't be afraid to do something goofy and untraditional.
Meals that satisfy, not sabotage
If you do prefer to go out for a nice meal, there are still several things you can do to enjoy the experience and even some of your favorite foods without regretting it later.
If you're more into the experience and atmosphere of dining out than the actual food, then don't be afraid to spoil your appetite. Have a protein, fat and fiber-filled snack about thirty minutes before you go so that you're not starving when you get there or tempted to nibble on bread and crackers. A sliced apple with some almond butter is good, or a spear of fresh pineapple wrapped in a thin slice of turkey or chicken.
You won't be so full that you can't go on to enjoy a nice, sensible meal, but you won't load up on appetizers and dinner rolls, either.
If the food really is the best part for you, another thing you can do is decide on the food you really want to eat and cut back during the rest of the meal. If you know the restaurant you're going to, what's your favorite thing there? If you dream about their chocolate cake, then have it. Just skip the appetizer, have water instead of a cocktail and order a light entrée, such as grilled fish and a salad. If their crab bisque is your absolute favorite, have a salad for your appetizer, have the bisque as an entrée and skip dessert. In other words, enjoy the thing you want the most, choose wisely with the rest and you'll be satisfied without feeling guilty later.
Going on a Valentine getaway?
Since Valentine's Day is on Friday this year, I'm sure some of you will be taking a weekend away. A weekend alone, somewhere away from home, is a great way for couples to reconnect and focus on the things they love about being together.
Unfortunately, it's easy to get into a "vacation mindset" that has you forgetting all about your fitness and weight loss goals, going a little wild on food and drink and giving yourself permission to skip any form of exercise.
One way to help you avoid that is to choose a weekend getaway that makes it easy to be active and eat well. There are all kinds of ways to do this.
There are spa-type resorts and inns within a short drive of any major city. They offer fitness classes, healthy dining options, massages and all kinds of things that will do you good inside and out. They do all this in a relaxing and beautiful environment and classes are optional, so you'll have plenty of romantic ambience and time to enjoy it together.
If that's not your cup of tea or it's outside your budget, you can book a weekend at a bed and breakfast near fitness-friendly parks, hiking trails, ski resorts or beaches. There are a number of B&Bs these days that offer farm-to-table menus filled with organic foods, free bicycles and sporting equipment and other amenities that are fitness-friendly.
If you can't get away on your getaway, you can always opt for a weekend at a hotel in your city that has a great gym or spa or perhaps an indoor pool. Most city hotels have some healthy dining options. If not, there's always a wide selection of restaurants in any downtown hotel district. Pick one or two diet-friendly places you haven't tried. Then spend your weekend walking around local museums and historical attractions, working out in the hotel gym or pool and just enjoying each other's company.
Ideas for Going Solo on Valentine's
What if you're going to be spending Valentine's Day alone? For some women, Valentine's Day is no big deal and they're perfectly happy to stay home and enjoy themselves or go out with friends. For other women, feeling left out or lonely can lead to a pint of Rocky Road and a bag of Cheetos in front of the TV. Of course, this is followed by a good session of beating themselves up later.
But what's wrong with giving yourself a Valentine?
Even if you don't feel like you're missing out on Valentine's Day, you should give yourself a little pampering and/or fun. Give yourself a home spa night, complete with manicure, pedicure, facial and hair mask. Rent a whole pile of your favorite movies and gorge on fresh fruit (even exotic, too expensive tropical fruit) all weekend. Book a cheap, off-season cottage at the beach for the weekend or go get a massage. Whatever makes you smile, whatever makes you feel self-indulgent; anything other than eating a bunch of junk food or comfort food and feeling terrible about it.
Valentine's Day can be a lot of fun and you should enjoy it to the fullest without worrying about whether you've just blown your diet and without killing yourself for a week afterwards trying to make up for it.
You work hard at getting and staying fit, you care about your health and you're a great friend/wife/mother/girlfriend. You deserve to have a few treats to honor how much you mean to the people around you and you deserve to do it without setting yourself back.
The best way to do that is to remember that Valentine's Day will be gone by Saturday, but your goals and your priorities are long-term and much more important.