Eagle Stretch For the Upper Back and Shoulders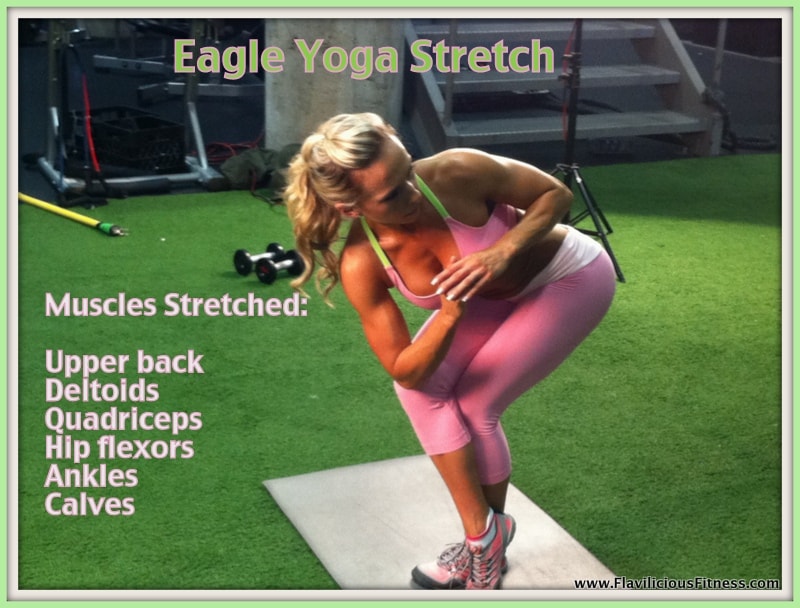 *Garuda = the mythic "king of the birds" which translates into eagle
How To Perform:
 From standing shift your weight onto the left leg.
Bend the right leg, lifting the foot and cross your right thigh over your left.
Hook the right foot around the left calf.
Bring the arms out in front.
Cross the left arm over the right and bring the palms to touch.
Lift the elbows while keeping the shoulders sliding down the back.
When a steady balance is maintained, twist the upper torso to face left and crunch towards your right knee.
Place right elbow on the inner (medial) side of the right knee.
Repeat on the other side.
Beginners: If you have trouble with the balance, rest your backside on a wall. If you can't hook the lifted foot around the calf, cross at the ankle as shown.
Advanced: Start to come into a forward bend, bringing the elbows in front of the knees. Bring the thumbs to your third eye.
Benefits
Strengthens and stretches the ankles and calves
Stretches the quadriceps, hip flexors, shoulders, and upper back muscles
Improves concentration
Improves sense of balance
See also: Upper Back Stretch