Sext legs are not complete without sexy shapely calves. Here are my favorite exercises to make the calves get noticed!
Your calves consist of two separate muscles: the gastrocnemius and the soleus. Both muscles are located on the back of your lower leg. The gastrocnemius is located anteriorly to the soleus and is composed of two sections, one proximal and one medial. Both sections attach just above the knee and come together at your achilles tendon. The soleus lies underneath the gastrocnemius and extends from just below the knee to the achilles tendon which joins with the gastrocnemius.
The primary function of the calf is plantar function or extending the ankle. The soleus is more involved in extending the ankle when the knee is bent, whereas the gastrocnemius takes on a greater work load when the knee is straight. As a result, bent calf raises such as the donkey calf raise is best for targeting the soleus and standing calf raises will target your gastrocnemius.
The soleus is primarily a slow-twitch muscle fiber meaning it is great for endurance type movements. Fast-twitch muscle fibers such as those that primarily make up the gastrocnemius are better suited for strength and power lifting.
Sexy Calf Workout
1. Donkey Calf Raise  6-8 reps, no rest (heavy weight)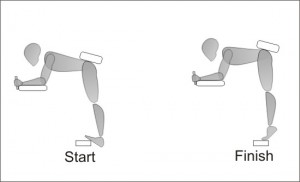 Superset with
Seated Machine Calf Raise   12-15 reps, 60 second rest (light weight)

Repeat x2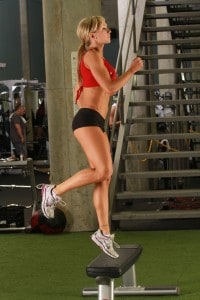 2. Single-leg Toe Hops off bench 15 reps each leg, no rest
Repeat x2
Don't forget to take before and after pictures and share your comments below.