I arrived home safe and sound after a great memorial weekend in San Diego. Vince and I had a dedicated weekend of socializing, fun and yes, training. We never missed a single workout, ate healthy foods for the majority of our trip, including the airport…both ways! Here is how we stuck to our healthy lifestyle while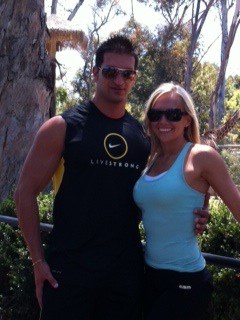 1. We booked a hotel very close to Fit gym, a gym we had trained at last year and loved. Although our friends stayed along the marina, we chose to book our hotel right next to a gym to make fitting in training sessions a lot easier.
2. We pre-packaged and pre-cooked our meals before we left. Vince and I bought packaged salads and nuts for the plane ride down. We brought our shaker cups and protein powder and took a greens product and multi-vitamins incase we missed out on any veggies.
3. Planning our workouts! We woke up early each morning to fit in cardio. This means we also went to sleep at a decent hour all nights except one! Planning is everything. We strategically planned our workouts before we left home. We chose to take Thurs and Mon off training as these were our travel days. We added weights on the nights we could and if we didn't want to go back at night, we simply just added some cardio post weights in the morning.
4. We found a grocery store as soon as we got to the hotel and asked for a microwave and mini-fridge for the room. First thing we did after check-in was take a trip to the healthiest food spot for convenient food that matched our nutrition criteria. We brought these foods back to the hotel and used them pre and post workouts. We not only saved money, but a lot of calories. When it came time for dinner, we passed on what we wanted to pass on and also indulged some too.
5. We said NO to a lot of bread, dessert, and alcohol…and said yes on a few occasions. Notice I used the word few. Taking opportunities to skip on unhealthy empty calories makes the difference of looking good VS. looking average.
Take those tips with you on your next trip to make sure you don't come back feeling guilty and regretful. Every time you come out of a situation as an achiever, you become stronger and the difficult choices become easier. This summer choose to enjoy yourself without over indulging, make plans before you go out or travel and remember that saying no is really saying, I care about my body.
Share your favorite travel tip below to keep us all motivated while training and eating smart.
Flavia Del Monte