Hey Y'all.
I have been offline lately taking care of my babies and taking time to learn some new and really cool techniques that will ROCK your body.
Below is my latest workout that almost killed me…not really, but it flipping HURT BAD. I included 4 GLUTE focused exercise picutres that I have come to absolutely love/hate.
I'm currently working on bringing my body fat percentage down to 14% from 18%. I started almost 3 weeks ago and have 3 more weeks to go.
I lost 1.5% week one and 0.5% week two, leaving me at 16% right now with my next weigh in on Tuesday. Hoping to drop 0.5% each week.
My training has been brutal for two reasons:
I am a sleep deprived mom of 2 young kids making my workouts hard to do. I have never felt so terrible while training before. Stinks.
I got a really knowledgeable trainer named Megan. She catches every cheat my body tries to make and knows some pretty cool ways to execute exercises to reach their peak performance and prevent injury; something I am learning along the way which I will share with you once I am comfortable doing so.
Want to hear about my workout today? I almost gave up. Seriously. I have never been that close to saying, "enough, I'm done" and it's all because of this ONE STUPID, AWFUL, yet KILLER exercise; the split squat.
But… It's more than just the split squat, it's the way we did the split squat that made it hurt oh so good.
We've talked about tempo before. If you need a refresher, check out this blog post:
https://flaviliciousfitness.com/2011/07/28/overcoming-your-plateau/
When we are looking at the split squat, note that the first number is the eccentric or down motion, the second number is the pause or hold, the third number is the concentric or upward motion and the fourth number represents the start of the lift or exercise.
For our first exercise below, the split squat tempo is 31×0 — That means you go down for 3 full seconds, hold it at the bottom for 1 full second, explode up and take no rest at the top.
CRAZY right?!
Today's Workout – After Warmup
Exercise
Reps
Sets
Tempo
Rest

A1

Back Leg Elevated Split Squat
12/leg
3
31×0
10 sec

A2

Front Leg Elevated Split Squat
12/leg
3
31×0
10 sec

A3

Glute Bridge
10
3
31×0
90 sec

B1

45* Back Extension (glute focus)
10
4
1112
10 sec

B2

Leg Press (quad focus)

10
4
1030
10 sec
Tips:
Back Leg Elevated Spilt Squat — Here we are keeping our chest up, chin tucked, abs tight and going down straight, no bending forward. When you get the the bottom, push up through your heel to really target the glutes.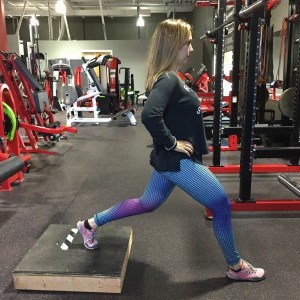 Front Leg Elevated Spilt Squat:
Here we are keeping our torso up, chin tucked, abs tight but we want to bend the knee so we engage the quads. Come forward (still keeping the chest up) and push up through your heels to return to the start position.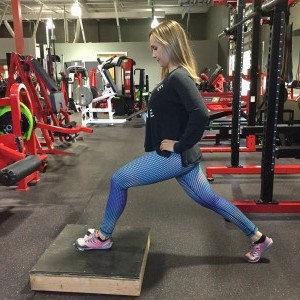 Glute Bridge:
Here want to keep our shoulders on the bench or apparatus if you have it available, feet wide and hips up. When you get to the top of the bridge, think about squeezing the glutes to bring hips higher. This will cause a pelvic tilt as you pinch the glutes in and squeeze them together. You should not be using your hips.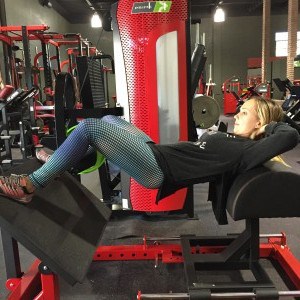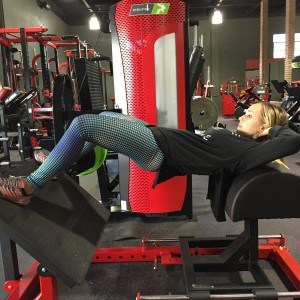 45* Back Extension (glute focus):
You should NOT feel this in your back. Instead pinch the glutes at the bottom of the movement and use your glutes to come up to the start position. This takes a while to get used to. Think about squeezing the butt cheeks together to cause that pelvis to tilt using your glutes ONLY. Just come up as high as your body allows you to without using your back.
*If you feel it in the back, think GLUTES — PINCH — SQUEEZE
B2) Leg Press (quad focus):
Here we keep feet shoulder width apart to put the focus on your quads. When you push up, think of wiping gum off the bottom of your shoe to engage the glues and hamstrings without moving your feet. Another way to think about this is hamstrings to floor.
Capiche?
Let me know if you have any questions below.
Good luck 😉
Flavia