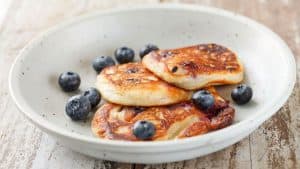 Blueberry Pancakes
2017-06-10 14:22:52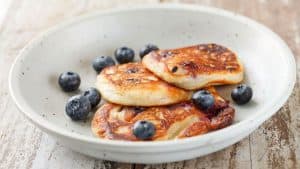 Ingredients
1 cup slow cooked oats (gluten-free)
½ cup cottage cheese
2 eggs
½ cup blueberries
1 tsp. vanilla
1 tsp coconut oil per pancake
Instructions
Blend all ingredients except blueberries.
Grease a griddle or pan with coconut oil.
Heat pan on medium before pouring in batter to form pancakes.
Drop in blueberries from up high into the pancake just after adding to the griddle.
Cook first side until bubbles form on top, about three minutes; then flip and cook other side until it, too, is brown, about two minutes.
Notes
TO TOP: Fresh Fruit and Maple Syrup
Flavilicious Fitness https://flaviliciousfitness.com/