Looks pretty good doesn't it?
I have a weird obsession with quinoa – I love it!! I use it in a lot of recipes and wanted to share something I made for dinner last week.
In fact, my whole little family loved it and I had to make another batch.
Anyway, let me know what you think about this recipe. I posted some photos of the process below.
Enjoy! 🙂
.
.
First, I chopped up all the veggies and put them together in the bowl.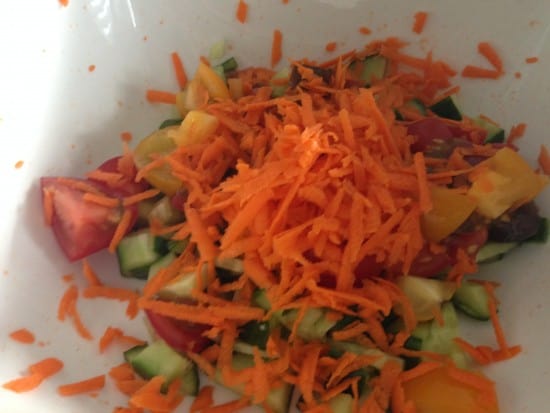 I then put the dressing together.
Lastly, I added the quinoa and poured in the dressing…
…and here is it! Delicious 🙂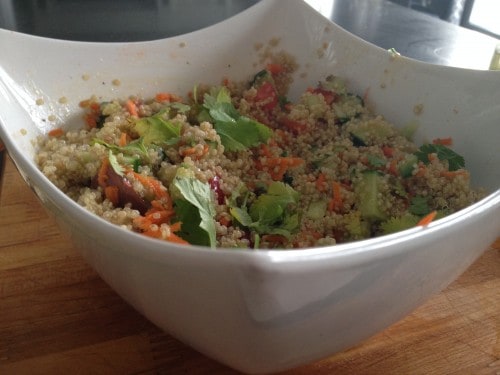 Vegetable Quinoa Salad Recipe
Ingredients
1 cup quinoa, rinsed
1 cup grape tomatoes, quartered
1 sweet pepper (any colour), diced
1 cup cucumber, diced
1 carrot, shredded
¼ cup fresh parsley, chopped
Dressing:
3 tbsp extra virgin olive oil
2 tbsp apple cider vinegar
1 garlic clove, minced
Black pepper and Aztec Sea Salt to taste
Optional:
Pinch of red pepper flakes
Instructions
Cook 1 cup of quinoa as directed on package. Set aside to cool
In the meantime cut, chop and mince all your vegetables.
Combine ingredients for dressing and whisk.
Add everything together and serve.