If I were to ask you 'Whats the #1 reason why you eat out?' What would your answer be? Would it be because you are too busy? or that you don't have enough time?
I hear it A LOT. I get it! I know what it is like. It is easier to stop by a drive thru than to go home and plan a meal. It is easier to order delivery than to cook for myself and my husband when we are feeling run down. Some days we do! But not as often as we would like to. Why? Because we start to see it ON our bodies, it comes out through our attitude, it shows in our mood.
Eating unhealthy food causes you to gain weight, it slows you down, it affects your energy and you begin lacking essential nutrients that you need in order to feel yourself and feel happy.
Follow these steps to help you make a quick, healthy, nutrient rich breakfast that you can literally grab and go. Milia loves eating this in the morning. Her favorite is using nut butters, but I like to change it up once in awhile. I will give her a small hand full of nuts and seeds along with the butter and other days I will offer her berries, I even give her protein powder! Mix it up, don't get bored of the same thing and enjoy the nutrients you get from each ingredient.
After you have boiled the oats for 3 minutes, you will notice that the oats are still uncooked and there is still a lot of liquid. You want this because the oats will continue to soak up the water in the fridge over night. By the morning you will have soft, delicious oats.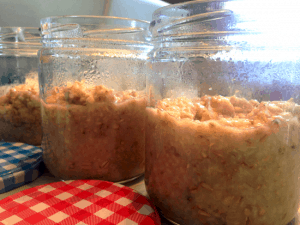 Adding the splash of milk will add moisture and help it cook a little bit more. By the way, if you would rather leave out the 'toppings' and add them after you have microwaved them, you can do that too.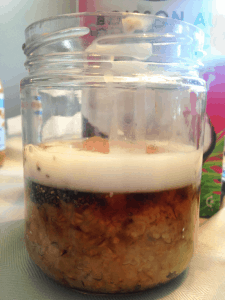 Steel cut oats take longer to cook. The package would read something like 10 minutes on the stop top. If you have a little more time in the morning, you can always dump the oats back into the pot and heat it for 1 minute instead of the microwave. This still saves you time.
Thanks for reading!
Flavia
Grab & Go Breakfast Oats
2018-02-12 15:27:00
Serves 5
Ingredients
4 cups uncooked steel cut oats (look for gluten-free/wheat-free oats)
5 cups water
Milk of Choice
Favorite toppings
Instructions
Add steel cut oats to a pot and cover with water.
Place on stove top and cook for 3 minutes.
Remove from heat and let cool.
Transfer the oats to glass jars, about a cup per jar
Add desired topping. (berries, nuts, seeds, honey, maple syrup, nut butters...etc)
Close the jar and place in the fridge.
Each morning when you wake up take the jar out of the fridge and add a splash of milk then place in microwave for 1 - 3 minutes.
Grab and go!
Flavilicious Fitness https://flaviliciousfitness.com/