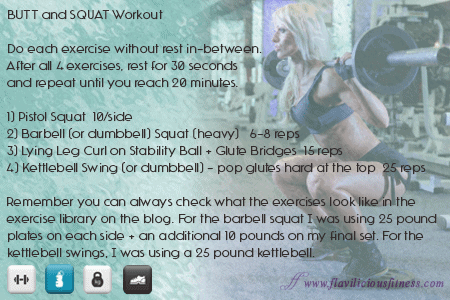 BUTT & SQUAT Workout
Do each exercise without rest in-between. After all 4 exercises, rest for 30 seconds and repeat until you reach 20 minutes.
1) Pistol Squat  10/side
2) Barbell (or dumbbell) Squat (heavy)   6-8 reps
3) Lying Leg Curl on Stability Ball + Glute Bridges  15 reps
4) Kettlebell Swing (or dumbbell) – pop glutes hard at the top  25 reps
Remember you can always check what the exercises look like in the exercise library on the blog. For the barbell squat I was using 25 pound plates on each side + an additional 10 pounds on my final set. For the kettlebell swings, I was using a 25 pound kettlebell.