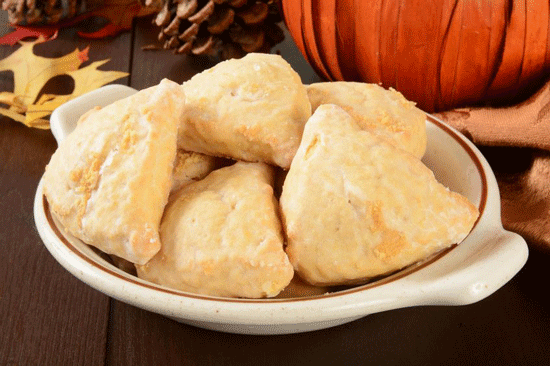 Prep Time:
15 Minutes
Cook Time:
15 Minutes
Total Time:
30 Minutes
Yield:
8 - 10
Scone Ingredients:

¾ cup coconut flour
7 tablespoons coconut sugar
½ tablespoon baking powder
½ teaspoon salt
½ teaspoon ground cinnamon
½ teaspoon ground nutmeg
¼ teaspoon ground cloves
¼ teaspoon ground ginger
6 tablespoons cold organic butter or ghee
½ cup canned pumpkin
3 tablespoons canned coconut milk
2 large eggs
 

Sweet & Spicy Glaze Ingredients:

½ cup powdered stevia (X2)
1 tablespoon canned coconut milk (X2)


Add into second batch:
¼ teaspoon ground cinnamon
1 pinch ground nutmeg
1 pinch ginger


Sugar Glaze Directions:

Mix the stevia and coconut milk together
until smooth. Spread glaze over each cooled scone. In separate bowl, mix the same ingredients only this time add in spices and drizzle. 
Directions:

1. Preheat over to 425F.

2. Line cookie sheet with parchment paper.

3. Combine flour, sugar, baking powder, salt,
and spices in a large mixing bowl.

4. With a fork, cut butter into the dry
ingredients until mixture is crumbly and no
chunks of butter remain. Set aside.

5. In a separate mixing bowl, whisk pumpkin,
coconut milk, and egg.
6. Fold wet ingredients into dry ingredients.

7. Form the dough into a ball.

8. Pat dough onto a lightly floured surface and
form it into a 1-inch thick square.

9. Use a knife to slice the dough into triangles.

10. Place on prepared baking sheet.

11. Let bake for 15 minutes or until scones are
lightly browned on edges.

12. Let cool and glaze before serving.

---
This recipe is honestly the best scone recipe I have EVER tried. I spent many hours perfecting this one and I cannot get enough of them! I have given this recipe out to my family and friends and they all say they love it! I wanted to share it with you along with my other great recipes! You can get juicing recipes + cooking tips + healthy dessert recipes and more by click the image of my new Flavilicious Cookbook.