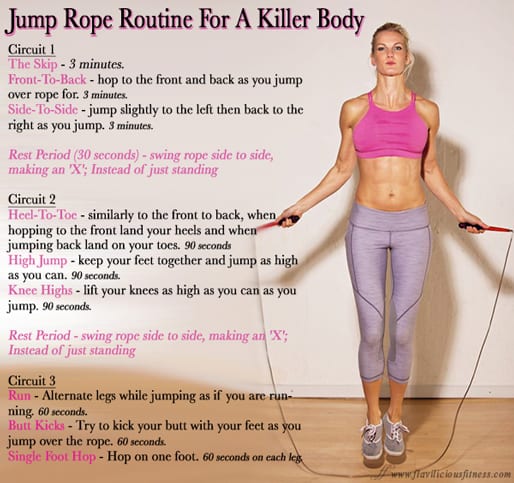 Jump Rope Routine For A Killer Body
Circuit 1
The Skip – perform for 3 minutes.
Front To Back – hop to the front and back as you jump over rope for 3 minutes.
Side To Side – jump slightly to the left then back to the right as you jump for 3 minutes.

Rest Period (30 seconds) – swing rope side to side, making an 'X'; Instead of just standing
Circuit 2
Heel To Toe – this one is similar to the front to back but when hopping to the front land your heels and when jumping back land on your toes for 90 seconds.
High Jump – keep your feet together and jump as high as you can 90 seconds.
Knee Highs – lift your knees as high as you can as you jump 90 seconds.

Rest Period – swing rope side to side, making an 'X'; Instead of just standing

Circuit 3
Run – Alternate legs while jumping as if you are running for 60 seconds.
Butt Kicks – Try to kick your butt with your feet as you jump over the rope for 60 seconds.
Single Foot Hop – Hop on one foot for 60 seconds on each leg.