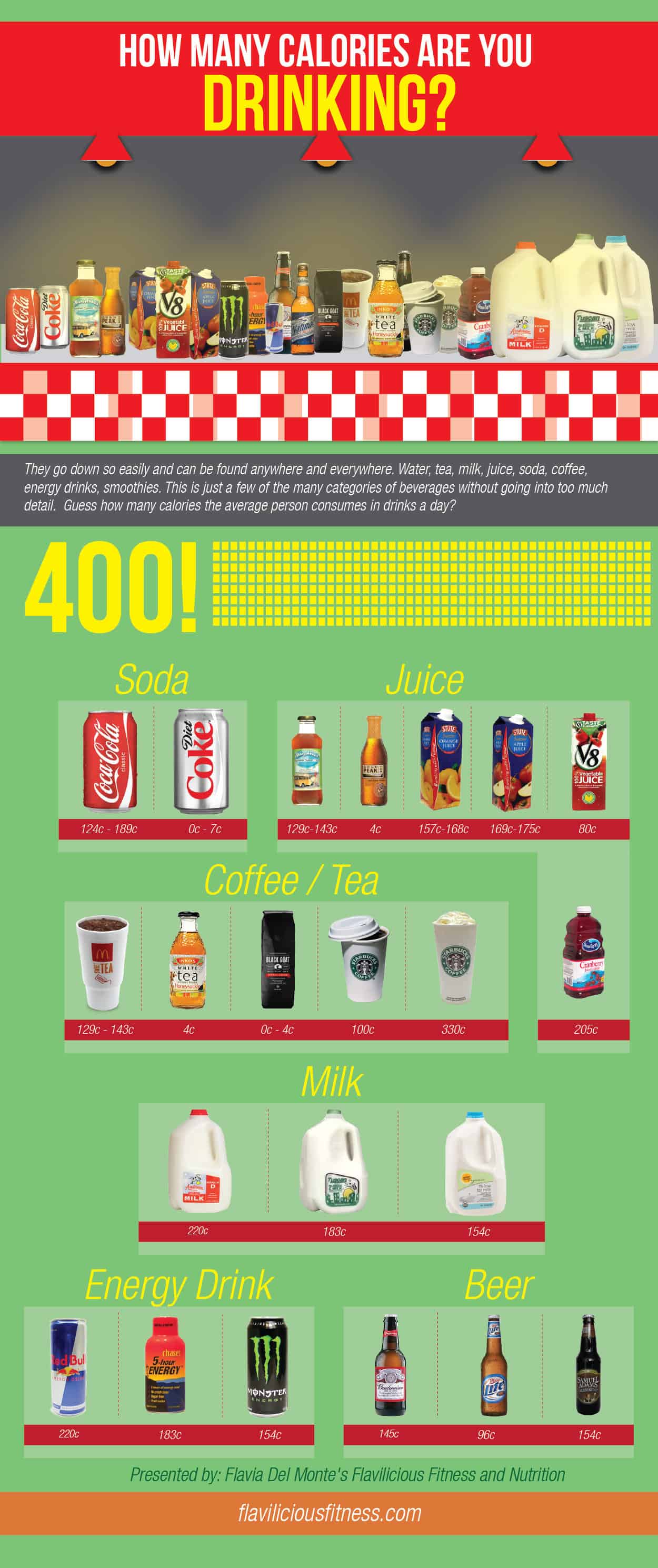 What your diet may be lacking is a true look at what you are consuming in your drinks. Here are examples of calories that add up if you are not careful.
ONE POUND OF FAT = 3500 Calories
That means in order for you to lose a pound of fat, you need to burn off 3500 calories. The best way to do this is through a proper diet consuming only what is needed to carry out the everyday functions of life. AND…of course if you exercise, you will be able to burn calories a whole lot faster!
Beverage

Serving Size

Calories

Soda

12 ounces

124-189

Diet soda

12 ounces

0-7

Bottled sweet tea

12 ounces

129-143

Brewed tea, unsweetened

12 ounces

4

Orange juice, unsweetened

12 ounces

157-168

Apple juice, unsweetened

12 ounces

169-175

Tomato/Vegetable juice

12 ounces

80

Cranberry juice cocktail

12 ounces

205

Whole Milk

12 ounces

220

2% low-fat milk

12 ounces

183

1% low-fat milk

12 ounces

154

Nonfat milk

12 ounces

125

Soy milk

12 ounces

147-191

Coffee, black

12 ounces

0-4

Coffee with cream (2 tablespoons
half and half)

12 ounces

39-43

Coffee with whipped cream (2
tablespoons from can)

12 ounces

15-19

Coffee with heavy whipping cream
(2 tablespoons)

12 ounces

104-108

Caffe Latte, whole milk (Starbucks)

12 ounces

200

Caffe Latte, nonfat (Starbucks)

12 ounces

120

Sports drink (like Gatorade)

12 ounces

94

Energy drink (like Red Bull)

12 ounces

160

Beer

12 ounces

153

Red wine

5 ounces

125

White wine

5 ounces

122

Hard liquor, vodka (80 proof)
 1 once
 96
See also 10 Lessons in Fat Loss