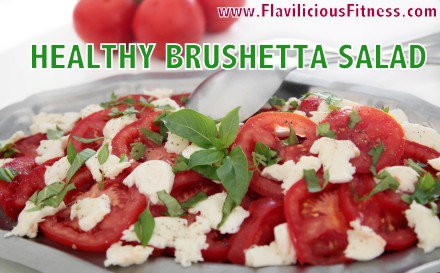 Turn bruschetta into a healthy side dish. Add beets to this salad for more flavor!
Prep time:
Cook time:
Total time:
Since bread is the "unhealthy" part of bruschetta, why not eliminate the bread and still have the taste of the oil, tomatoes and basil in a salad.
Ingredients
2 medium beets (optional)
2 ripe roma tomatoes, chopped
2 oz goat cheese, crumbled
1 tbsp green onion, finely chopped
2 cloves garlic, grated
3 tbsp balsamic vinegar
2 tbsp extra virgin olive oil
1 tbsp fresh basil, finely chopped
sea salt and pepper to taste
Instructions
Carefully wash dirt off the beets, taking care not to break the skin or roots. Place the beets in a saucepan, cover with boiling water, and cook covered until tender. Young beets will be done in 30 to 40 minutes depending on their size, while old beets will require 1 hour or more.
Peel skin off beets while still warm and chop to desired size. Place in fridge to cool about 1 hour.
When beets are cool, add all ingredients to a bowl, mix well and serve.
Notes
For a quick and easy salad, skip the beets and have a refreshing bruschetta salad. Calories do not include the vegetables. This is a F + V with some protein.
Nutrition Information
Serving size:
1
Calories:
253
Fat:
22.5g
Carbohydrates:
5g
Sugar:
2g
Protein:
6g