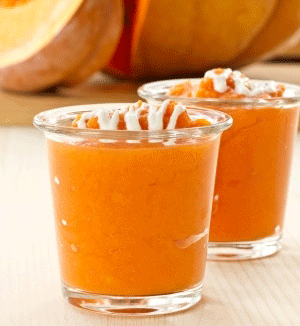 Sweet Potato Pudding
Prep time:
Cook time:
Total time:
Ingredients
Pudding:
3 large sweet potatoes, boiled,
peeled & mashed
⅓ cup raw honey
¼ cup natural maple syrup
⅓ cup coconut milk
¼ melted coconut oil
1 teaspoon vanilla extract
2 teaspoons pumpkin pie spice
2 eggs
Topping:
½ cup chopped pecans
¼ cup crystallized ginger
¼ cup coconut flakes
1 teaspoon coconut oil (optional)
Instructions
Preheat oven to 350F.
Grease baking dish.
Mix pudding ingredients together.
Baking for 30-40 Minutes.
Meanwhile, combine topping ingredients together in a mixing bowl. The coconut oil will help keep the ingredients together if desired.
Remove pudding and let cool for 5-10 minutes.
Scoop out into serving bowls and sprinkle topping.
Top with whipped coconut cream if desired.
Notes
Cooking Tip:
This recipe tastes great cold. Leave in fridge
overnight to let flavors infuse then top with
desired toppings and serve cold.
Nutrition Information
Calories:
723
Fat:
48g
Carbohydrates:
30g
Protein:
8g
I love the fall! This season is so magical. It is not only about the colors and the weather. I also love the fall veggies that grow. Wow, it is so cool that we have specific vegetation for each season. This fall I came up with this amazing recipe. I was experimenting because I want to give my readers, friends and family (that's you!) some great treasures. This one I found is best served cold, which works along side something hot to replace ice cream (not so healthy).
If you love this recipe and want more be sure to check out my new cookbook: Flavilicious Cooking