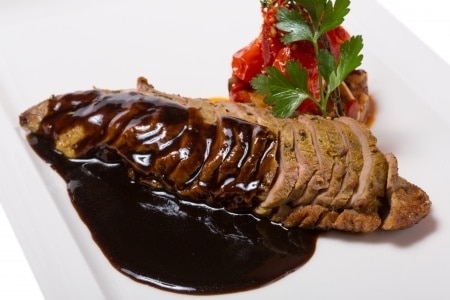 Prep time:
Cook time:
Total time:
Ingredients
4 duck breasts
3 cups prunes
2 onions
3 or 4 cinnamon sticks (taste preference)
2½ cups coffee
6 tbsp raw honey
coffee grounds
grape seed oil
salt & pepper
Instructions
As with any meat, take it out of the fridge to sit at room temperature for at least 15 mins before cooking. This will prevent the duck from shrinking.
Grilling the Duck: in a sauce pan drizzle grape seed oil and turn burner to high. Place duck and cook for 5 minutes. Lower heat and continue to cook for 3-5 minutes. Flip over and cook for a few minutes until just lightly pink in the middle. season with salt and pepper.
Prunes: In a separate sauce pan add grape seed oil and onions to medium heat and cook until onions are translucent. Add prunes, coffee, cinnamon and honey. Let simmer over low heat for 10 - 15 minutes.
Place prune mix on plate (can leave cinnamon stick for looks). Add duck on top. Sprinkle coffee grounds (instant if you prefer). Serve.