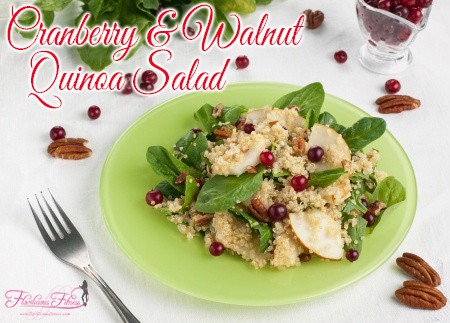 Cranberry Walnut Quinoa Salad
Prep time:
Cook time:
Total time:
This side dish can be paired with any meat and added to any style of cooking. It is delicious, fast and will be a big hit at any dinner party.
Ingredients
1 cup Quinoa
⅓ cup Walnuts
⅓ cup Cranberries
1 cup Spinach
1 Red Onion
1 tbsp Parsley
¼ tsp Black Pepper
2 tbsp Tamari or Balsamic Vinegar
2 tbsp Walnut or Olive oil
2 tbsp Lemon Juice
1½ cups Water
Instructions
Cook and cool quinoa.
Mix walnuts, cranberries, spinach, onion, parsley and pepper in a bowl.
Combine liquids together in a separate bowl and mix well.
Pour dressing over quinoa, mix and serve.