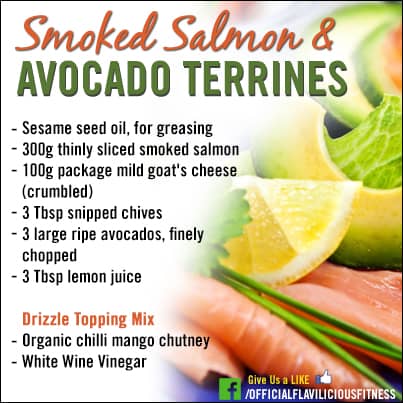 Tasty Thursday - Salmon & Avocado Recipe
Ingredients
sesame seed oil, for greasing
300g thinly sliced smoked salmon
100g package mild goat's cheese (crumbled)
3 tbsp snipped chives
3 large ripe avocados, finely chopped
3 tbsp lemon juice
Drizzle Topping Mix
Organic chili mango chutney
White Wine Vinegar
Instructions
Lightly oil 8 small ramekins.
Line with cling film
Line the salmon (1 large or 2 smaller slices). Be sure to allow plenty of overhang.
Mix together the cheese, chives and avocado with the lemon juice and seasoning.
Spoon into the salmon-lined ramekins, press down, fold over the overhanging salmon.
Cling film to seal in the mixture.
Tip: Can be made the night before, but if making on the day they should be chilled for at least 4 hrs.
On the day, gently lift the terrines out of the ramekins using the cling film, then remove the film.
Place the terrines on plates with some baby salad leaves tossed in a little vinaigrette.
Drizzle the terrine and plate with organic chilli mango chutney mix.
Serve on their own or with toast.