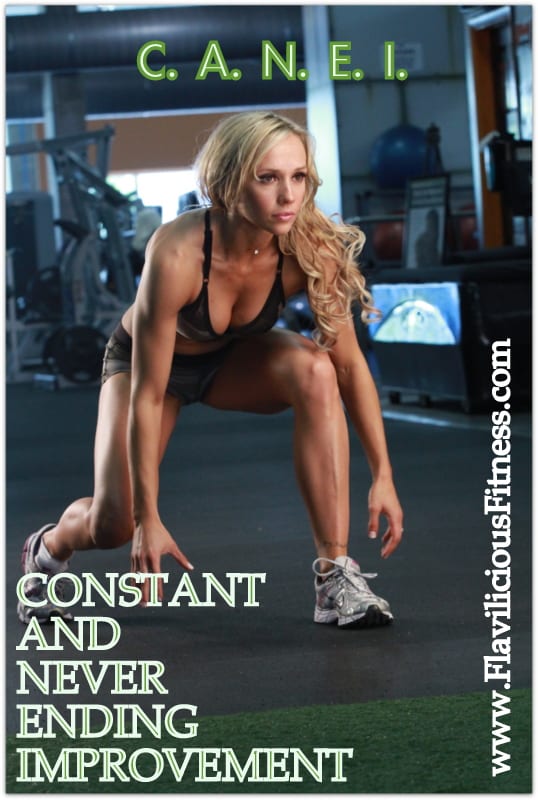 This is what Vince and I live our lives by, constant and never ending improvement. 
One of my favorite men in the whole world, Luciano Del Monte, enriches my life by sending me emails with acronyms like the one you are reading today.  I received this email from him on What Men Want In A Marriage and being a wife that has mostly a women readership, I thought I would share with you and hope to enrich your life as it has mine.
I know this is a fitness blog but health is the entire being. Having healthy relationships is a BIG part of health. The World Health Organization (WHO) defined health in its broader sense in 1946 as "a state of complete physical, mental, and social well-being and not merely the absence of disease or infirmity."
I trust you will enjoy this read:
Hey guys
I thought this was a great article to discuss couple to couple. Mom and I are going to, SO we can make a good Thing–our marriage–even better. 
CANEI stands for constant and never ending improvement!!
"I've learned that two people can look at the exact same thing and see something totally different." We don't know who wrote that statement but it sure can be true —especially when it comes to the different ways that men and women view and perceive many things!
We came across an article we think wives could benefit from reading. It was written by Dr Val Farmer, who gave "points of advice that men frequently mention when it comes to describing what they would like in a marriage." It was published in The Pilot— Independent and is titled, "What Do Men Really Want in Marriage."
WHAT MEN WANT IN MARRIAGE 
• Be less critical. Men feel they're often on the defensive and "wrong" just for voicing an opinion that doesn't match their wives' expectations and standards. They want a feeling of teamwork, cooperation, and a more legitimate discussion of issues in their marriage.

• Accept him for what he is —imperfect. He needs to be accepted as he is with his own legitimate interests and hobbies. Take advantage of his strengths and good points. Men want appreciation, probably for the things they are doing for the family. Reinforce and reward the things you appreciate him doing.

• Don't make every issue between you a fight to the death. Some quirks and differences you can live with. Trying to change him adds to his and your frustration and resentment.

• The home should be a refuge, not a place where he faces a barrage of criticism and conflict. How strongly and frequently you are judgmental of him may shut him down or trigger an emotional response that exacerbates the problem.

• Forget the past. Husbands feel that some past hurts and blunders in the marriage aren't left alone. They feel matters they think are resolved are brought up unfairly in fights. "Let the dead stay buried." Forgive mistakes. Don't bear grudges. Don't bring up the past unless it pertains to a current problem.

• Be supportive of work and leisure activities. Men want their wives to understand that work obligations occasionally take precedence over family needs. Some of their priorities are out of their control.  Men would like understanding and appreciation for the work pressures and responsibilities they face. A man's work accomplishments and struggles need to be recognized and supported.

• They also want acceptance for their occasional need to be alone or to pursue their personal interests.

• Be nurturing. Giving emotional support, respect, attention, soothing and meeting his needs makes coming home special. Family meals together give more than bodily nourishment.

In homes where there is confusion, disorganization, anger or emotional distance, men don't do well. The family doesn't do well. This isn't a rehashing of stone-age advice on how to please a husband —"shut up and wait on them." Mutual roles need to be clarified, understood and negotiated.

If you're working outside of the home, this is a two-way street. He has a supportive role to play also. But the nurturing and caring still needs to take place. What we are talking about is caring, not care taking. In the era of women's greater involvement outside of the home, the baby shouldn't be thrown out with the bath water.

• Verbalize needs. Men don't like being judged or criticized for not doing something they "should have known." There are times when they just "don't get it." They want their wives' expectations spelled out — the more detail, the better. Don't expect him to read your mind. Be clear and spell out exactly what you want and expect from him.

• Be a friend. Men want a safe haven, a best friend where they can unburden themselves and be accepted for who they are. They want to be able to share emotions and know their thoughts and feelings will be kept confidential. Companionship, affection and romance are important. They want a friend who can take their side and is supportive of their struggles.

• Take responsibility for your own happiness. Don't expect your husband to solve all your problems. If you depend on him to make you happy and always do the thoughtful, loving or right thing, you will be disappointed.

If you are insecure or unhappy with yourself, you'll have a tendency to put strong and unrealistic demands on the marriage. Over time, unhealthy dependency breeds hostility and resentment.
The last point is such an important part of being in a healthy relationship. Some people I love struggle with this and it pains me to see. Ladies we need to find our own happiness before we can be happy!
Let me know your thoughts below…