How was last week's workout? If you aren't just starting out, I will get to you ladies in a few weeks as I up my intensity.
.
If you're just joining us, click here to go to Week 01.
.
If you are following along with me, how was week one?
.
For me, it was a challenge but I was in the BEST mood after each workout. I forgot all about those amazing endorphins YAY!
.
This week we are going to add a third workout and take up the intensity up just a little. Grab a little heavier weight for each exercise, water and an iPod.
.
Here is my second week progress pictures:
WEEK TWO
Down 2 pounds but you can really see a difference already 🙂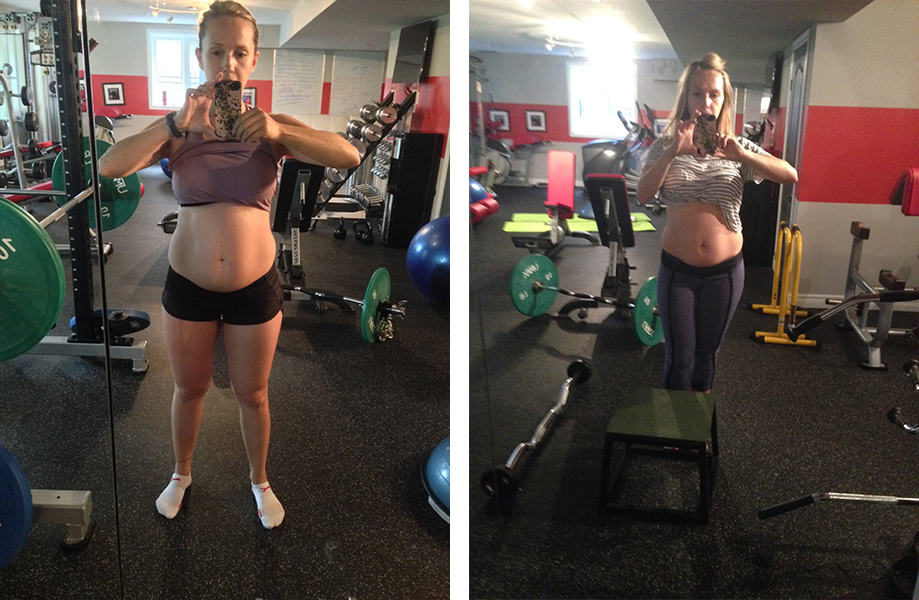 Workout #1
Barbell Squat – 6
Step-Up with Lateral Kick – 10/leg
Stability Ball Lying Hamstring Curl – (failure)
Push-Up (failure)
Dumbbell Biceps Curl – 10
Triceps Pressdown -10
Leg Raise (abs) – failure
REST 2 minutes
Repeat for a total of 2 sets
Workout #2
Stair climbing (outdoors) – 5 flights of 150 stairs with each flight taking 4 minutes to complete.
* Do last weeks workout 5 minutes faster
Workout #3
Bodyweight Squat – 15
Laying Hamstring Curl – 12
Leg Extension – 12
Chest Fly (machine) – 15
Rear Delt Fly (machine) – 12
Dumbbell Shoulder Press – 15 (5 pound DB)
Standing Calf Raise – 20 (bodyweight)
Incline Leg Raise – failure
Rest 2 Minutes
Repeat for a total of 2 sets
—-
GREAT JOB!
Next week here we come….