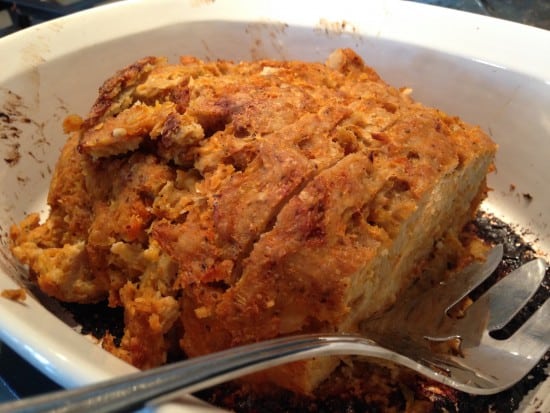 Chicken Meatloaf from scratch
Prep time:
Cook time:
Total time:
Ingredients
1 lb ground chicken
½ cup oat flour
1 large carrot
1 medium onion
1 - 2 garlic cloves
¼ cup organic ketchup or tomato sauce
¼ tsp dried dill weed (can replace with caraway seed or celery seed)
½ tsp sea salt
½ teaspoon pepper
1 large egg white (optional)
Instructions
Preheat oven to 350 F
In a large bowl mix together the ground meat and oat flour. Set aside.
Chop carrot, onion and garlic roughly and place into food processor. Pulse until finely chopped.
Add spices and tomato sauce (and egg white if using) and mix.
Add above mixture to the ground meat and oat flour. Use your hands to fold together.
Place into a loaf pan and cover with foil.
Cook for 1 hour. Remove foil and cook for an additional 20 - 30 minutes.
Optional: At one hour mark, spread your favorite bbq sauce over the top before putting it back in the oven.