Happy Workout Wednesday!
Thank You for stopping by my page. We are continuing our Strengthening Challenge workout series to create a strong, but SEXY body.
It is vital that women, especially as we age, work on strengthening our body. We want create a solid foundation to preform daily routines well. If we don't look after ourselves, we will find our weak body susecptible to injury and sickness.
An intelligent workout design will take into account all the muscles in your body to ensure you are creating balance.
How To Create Balance In The Body
Full-Body-Licious and Curvalicious (as well as the workouts of this blog) focuses on creating balance between the muscle and joints. Incorporating stability muscles, along-side bigger muscle groups, is vital for proper joint, tendon, and opposing muscle strength.
An opposing muscle is better stated as a muscle antagonist. The muscle that you are working is the agonist. The antagonist is in opposition.
In general, each primary muscle group is either a push muscle group or a pull muscle group:
Push Muscles – muscles that contract as the weight is pushed away from the body.
Pull Muscles – muscles that contract as the weight is pulled toward the body.
Today I have a horizontal Push and Pull workout for you to try.
Unfortunately, I was unable to film this workout but by clicking on each exercise below, you can see how to execute the technique properly.  As always, if you have any questions please post them below.
WHO IS READY FOR A CHALLENGE??  Let's get started!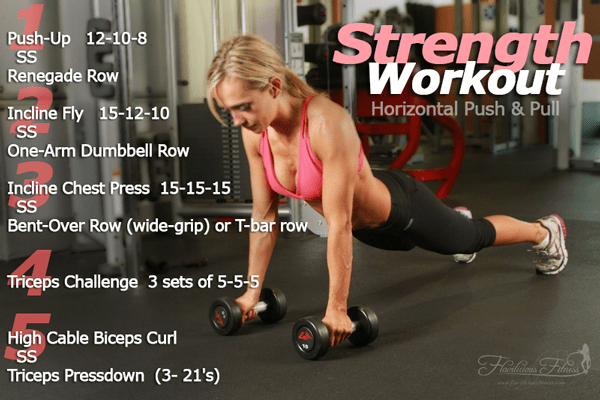 Warm up 20 reps
Exercise combo one – 3 supersets 12-10-8
Exercise combo two – 3 supersets 15-12-10
Exercise combo three – 3 supersets 15-15-15
Exercise four – Triceps Challenge increase 1 rep each week
Exercise combo five – 21s: 3 supersets of 21
Warm up — 10 reps of any chest exercise (bodyweight – ex. Chest fly) + 10 reps of any back exercises (bodyweight – ex. bent over row)
Exercise Combo #1
Push-Up   12-10-8
SS
——————————————-
Exercise Combo #2
Incline Fly   15-12-10 (Exercise #2, Dumbbell Fly when you follow link)
SS
One-Arm Dumbbell Row (see Exercise #3 when you follow link)
——————————————–
Exercise Combo #3
Incline Chest Press  15-15-15 (Exercise #1 in video when you follow link)
ss
Bent-Over Row (wide-grip) or T-bar row (Exercise #4 in video when you follow link)
——————————————–
Exercise #4
Triceps Challenge  3 sets of 5-5-5 (Follow link to watch video)
——————————————–
Exercise Combo #5
High Cable Biceps Curl
ss
Triceps Pressdown  (3- 21's)
——————————————-
This particular style of workout comes from my latest program Musclicious. Musclicious is a complete 4 training day to get your body's metabolism working as hot as a furnace; burning calories ALL DAY LONG.
And who doesn't love a pair a toned luscious legs and round, tight booty?
If you like this workout, you are going to LOVE Musclicious. Check it out all here:
==> Musclicious — giving you a sexy feminine body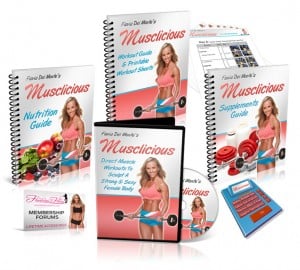 Questions? Post below 🙂 Have a wonderful day.
Here all the other workouts in this series:
Workout #1 of 4 — Hot Butt and Nice Abs Workout
Workout #2 of 4 — Inner Thigh Toning Workout
Workout #4 of 4 — Strength Conditioning Fat-Burning Workout