This recipe is on page 156 in the "Appetizers & Sides" section in My NEW Cookbook: Flavilicious Cooking. You can see all the amazing recipes here: www.FlaviliciousCooking.com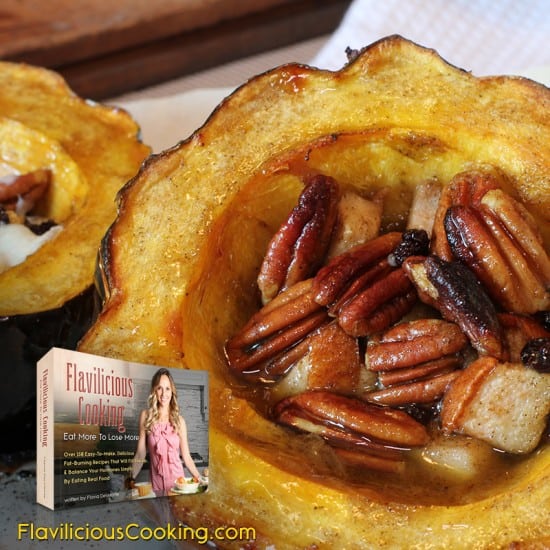 Pecan & Pear Stuffed Squash
Prep time:
Cook time:
Total time:
Ingredients
1 acorn squash, halved
1⁄2 pear, diced
1 tablespoon currants
1 tablespoon pure maple syrup
4 tablespoons oil
1⁄4 teaspoon ground sage
1⁄8 teaspoon ground ginger
1⁄4 cup pecan halves
1⁄4 -1⁄2 teaspoon sea salt
1⁄4 cup cheese of choice (optional)
Instructions
Pre-heat the oven to 400F.
Place both halves of the acorn squash in a shallow baking dish.
In a medium sized mixing bowl, toss all other ingredients (except the optional cheese) until mixed well.
Divide the mixture into two equal parts and scoop into the squash halves.
Brush a small amount of the oil that is left behind in the mixing bowl over the edges of the squash to prevent burning and to help keep the edges from drying out.
Place the dish in a pre-heated oven for 1 hour, covering with foil for the last 20 minutes to prevent burning.
Remove foil in the last five minutes of cooking and add the cheese (optional) to the tops of the pecan and pear mixtures.
Cook for an additional 5 minutes to brown the tops of the pecan/ pear mixture or until the cheese has melted.
Remove from oven. Prior to serving, scoop the pecan and pear mixture out of the squash along with the squash flesh and place into a large bowl. Mix well (See serving tip above).
Nutrition Information
Calories:
251
Fat:
19g
Carbohydrates:
23g
Protein:
2g
If you love this recipe, you will love my cookbook! This one comes right out of the Sides area! You can be the first to get  
Flavilicious Cooking
 today!! Be sure you check in now so you don't miss out on the amazing deals and free stuff.