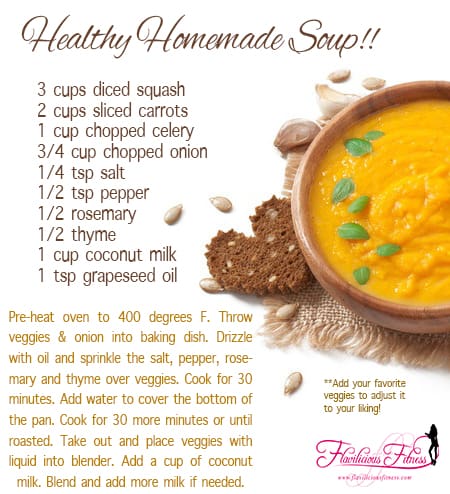 Healthy Homemade Soup Recipe
Prep time:
Cook time:
Total time:
Ingredients
3 cups diced squash
2 cups sliced carrots
1 cup chopped celery
¾ cup chopped onion
¼ tsp salt
½ tsp pepper
½ rosemary
½ thyme
1 cup coconut milk
1 tsp grapeseed oil
Instructions
Pre-heat oven to 400 degrees F.
Throw veggies and onion into baking dish.
Drizzle with oil and sprinkle salt, pepper, rosemary and thyme over veggies.
Cook for 30 minutes.
Add water to cover the bottom of the pan.
Cook for 30 more minutes or until roasted.
Take out and place veggies with liquid into blender.
Add a cup of coconut milk.
Blend and add more milk if needed.