5 Best Carbs To Eat for Weight Loss

Carbs always seem to get a bad rap. Starting with the Atkins Diet on through The Zone Diet and the Paleo Diet, various books, magazines, diet "gurus", and others carbs are being presented as our enemy. But nothing could be further from the truth.
Yes, you do need to keep your carbs in proper balance. We all need to find the right ratios of macronutrients (protein, carbs and fat) for our bodies and our goals. But carbs are absolutely necessary for energy, proper brain function and even muscle-building.  For some women, making carbs 30% of their daily diet is perfect. For others, a range between 35-60% is what will work best, making the majority of carbohydrates coming from vegetables.
The reason carbs have gotten such a bad reputation lately is that many of the unhealthy, processed foods in the average American diet fall into the carb category. These are things like white bread, baked goods, chips, candy and other junk food. Even supposedly healthy foods like breakfast cereals and "whole wheat" bread are loaded with sugar and other unhealthy ingredients that promote hormonal imbalances, insulin resistance and obesity.
This doesn't mean that carbs are bad. It means that unhealthy carbs are bad and so are eating excessive carbs. If you eat more carbs than your body needs to function, those excess carbs will be stored as fat instead of being converted into glycogen and burned as fuel.
The important things are to a) take in only the carbs you need and b) take in the most nutrient-dense carbs. In other words, make your carbs work for you. If you choose carbs properly, you'll not only get energy but a healthy dose of protein (yes, protein), fiber, vitamins and minerals.
While there are a number of great carb foods from which to choose, some are so outstanding nutritionally that they should be a foundational part of your diet. Here are five of the absolute best carbs you can eat and what makes them so great for you.
1. Quinoa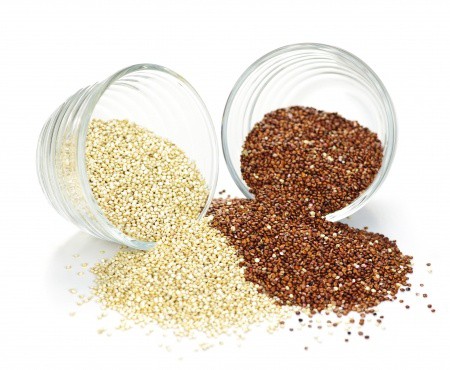 Even if you haven't tried it, you've probably heard quinoa mentioned a lot lately. That's because it's a powerhouse food. Even though it's a seed, quinoa is one of the most protein-dense foods you can eat, with as much as 14g of protein per cup. A meat-based source with that much protein would come with a good helping of fat as well and very few carbs, but quinoa is low-fat except for a nice dose of Omega-3 fatty acids. In fact, quinoa is a complete protein in that it contains all nine essential fatty acids.
Although quinoa is actually a seed, it is treated as a grain because of its texture, which is similar to barley. However, quinoa blows grains out of the water when it comes to fiber content. It has as much as twice the fiber of most grains.
Quinoa is also a great source of iron, magnesium, manganese and B-2 and is also a great source of lysine, which is essential to building lean, beautiful muscle.
One of the great things about quinoa is its versatility. You can use it as a substitute for rice or pasta in savoury dishes, as a grain for hot breakfast cereal and even in desserts. I love it sweetened with a bit of honey and layered into a parfait with Greek yogurt and fresh fruit.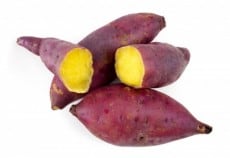 2. Sweet Potatoes
Put down the Idaho and other white potatoes and savor sweet potatoes instead. Despite their deliciously sweet flavor, sweet potatoes are actually far lower on the glycemic index than white potatoes are. But that's not their only benefit.
Sweet potatoes are also one of the best sources of plant-based protein with about 7g in a medium-sized potato. If you're on a muscle-building program, trying to get that sleek, strong, sexy shape you see in magazines, then you need to get as much plant-based protein as you can.
Sweet potatoes are one of the world's best sources of beta-carotene, which our bodies use to make Vitamin A. Depending on the type of sweet potato (there are many varieties) and the soil in which it was grown, one sweet potato can supply anywhere from 35-90% of your daily requirement of Vitamin A.
Another wonderful thing about sweet potatoes is that they're loaded with anthocyanins; antioxidants that fight inflammation and free radicals. Inflammation is the cause of many diseases that are becoming epidemic today, such as heart disease, metabolic syndrome and even Alzheimer's.
In addition to all of these nutritional benefits, sweet potatoes are an excellent source of fiber, which helps to regulate blood sugar and insulin levels so that you can burn stored fat, especially in the abdominal area.
Sweet potatoes make a great light entrée or a side dish for dinner, but they're also great for breakfast or dessert. Try a baked sweet potato with just a bit of melted coconut oil, some cinnamon and a touch of maple syrup!
3. Goji Berries
Not too long ago, the acai berry was the fruit superstar. Then it was the pomegranate. You may not have heard as much about the Goji berry, but it's an incredible food especially for women. In fact, it's considered the most nutrient-dense fruit on the planet.
The Goji berry is grown in the mountains of China and Tibet and is such an incredible food that it's been used in Chinese and Tibetan medicine for thousands of years. Goji berries are super-rich in antioxidants and are known to fight inflammation and free radicals.
One of the most amazing things about Goji berries is that they contain all nine essential fatty acids. They are the only fruit that does. This means they are a complete protein. In addition to all that protein, they have a ton of Vitamin C and contain more iron, ounce for ounce, than spinach.
You can find Goji berries at Asian markets and in health food stores and are usually sold dried. You can mix them in with some nuts and seeds to eat as a snack or use them to top your oatmeal or salad. They have a sweet-tart taste similar to cranberries and taste amazing.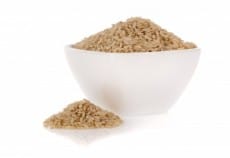 4. Brown Rice
Brown rice is widely known to be an excellent carb food and there are a lot of good reasons for that.
When brown rice is processed and converted into white rice, it is stripped of all of its fatty acids, 67% of its fiber and most of its vitamin, mineral and antioxidant content. Essentially, white rice is about as healthy as white bread. Brown rice, on the other hand, is a great source of several crucial minerals.
One of these is manganese.  One cup of brown rice supplies 88% of your daily requirement of manganese. Manganese helps your body convert protein and carbs into glycogen, the form of glucose that your body uses as fuel. If you lack manganese, your body may not have enough of it to convert all of the glucose in your bloodstream and that glucose will be stored as fat instead. Manganese is also a powerful antioxidant that fights free radicals and inflammation.
Brown rice also supplies as much as 14% of your daily requirement of fiber and 27% of your daily selenium needs. Selenium is essential for healthy thyroid function, so it is extremely important for metabolism and healthy hormone levels. Selenium has also been shown to be a powerful weapon against several forms of cancer.
5. Legumes (Beans)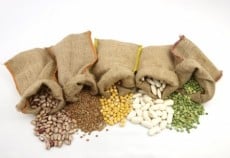 Legumes have always been prized by vegetarians because they're a huge source of protein; one of the best plant-based sources of this nutrient. But even if you eat meat and seafood, you should be including legumes in your weekly diet.
Legumes, such as lentils, black beans and kidney beans, are absolutely packed with fiber. This helps regulate insulin levels and blood sugar, promotes healthy digestion and improves heart health.
Legumes are also a great source of iron and several other minerals, including folate, magnesium and potassium, which are essential to healthy brain function, mood balance, and muscle-building.
The specific nutrients in legumes differ with the variety. Kidney beans are excellent sources of Vitamin C. Black beans are especially high in folate, potassium and magnesium. Garbanzo beans (chickpeas) are high in zinc.
If you're trying to cut back a bit on red meats, legumes are a great way to replace some of the iron and other minerals that you get from meat while adding more fiber, trimming some of the fat and subtracting quite a few calories as well.
Adding beans to soups and salads is an easy way to integrate legumes into your diet if you don't usually eat them. You can also make some great dips for fresh veggies using various types of cooked beans. Whenever possible, use organic beans, as commercially grown beans are heavily sprayed with pesticides and herbicides.
Dry beans cost just pennies per cup and are very easy to make. Using dry beans will save you a lot of money over canned beans and contain a lot less sodium.
Carbs are not our enemy. They are an essential part of your diet. Eliminate the processed foods and empty carbs and get plenty of these super-carbs and you will have a sleek, strong, sexy body that is as healthy as it is beautiful.
If you are looking for a proven nutrition system that has helped thousands of women achieve their dream body, check out Curvalicious. It is a complete workout and nutrition system that will help you shed off any unwanted weight in the fastest time possible while still being able to enjoy food.
We even have a "treat" day! Head on over to the page below and check it out: