Setting Goals in A Female Fitness Program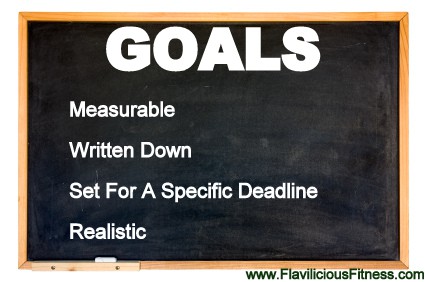 Starting a female fitness program doesn't have to be overwhelming. Arming yourself with the proper tools to get things rolling is important. Once you've committed to getting in shape, there are several things you can do to ensure you'll exceed your short and long-term goals. There are also some things you should to ensure you stay on the path to fitness and wellness. What exactly are the rules when it comes to fitness? Glad you asked.

Do
Write down your fitness goals. You're more likely to stick with a program once you have set some specific goals.
Always strive to eat a well-balanced diet that includes ample servings of vegetables.
Break down your meals so you are eating several mini meals per day.
Assess your current fitness level before starting an exercise program. By doing so, you'll be able to establish goals that meet your specific fitness needs.
Consider talking with your health care provider before embarking on a fitness program, particularly if you are struggling with a health condition such as diabetes or obesity. It is important that you know your limitations. Print off your workout sheets and bring them to your physician and ask if what exercises you are able to do.
Supplement your diet with essential fatty acids. See more on Fatty Acids by clicking here.
Always warm up and stretch after you exercise.

Don't overdo it!

Try doing too much at once and you'll burn out swiftly. Slowly increase the intensity of your workouts. If you overdo it the first time, chances aren't good that you will want to return to it.
Diversify your fitness workout routine. If you do the same exercises day after day, you'll quickly tire and are more likely to skip workouts. This is when I want you to check out the blog for alternatives. You can also change up the reps. Do 2 sets of 25 instead of 4 sets of 12 this week or add one set of 25 to the end of your workout by choosing an exercises on the blog.
Work out with a friend. You'll help motivate each other. I finally got myself a workout partner. I am trying to convince her to let me film us training…I think she will go for it after a few weeks 🙂
Keep healthy snacks available at all times. You're less likely to grab junk food if something good for you is readily available. Whenever I know I will be out for a while, I grab a scoop of protein and an ounce of mixed nuts.
Don't
Over-train. Your body needs time to recover in between workouts.
Skip breakfast. Eating breakfast will jump-start your metabolism and provide you with the energy you need to get through the day.
Skip stretching.
Skimp on sleep.
Set unrealistic goals. A healthy rate of weight loss is 1-2 pounds per week. If you have 50 pounds to lose, don't expect it to come off overnight, you'll set yourself up for disappointment.
Compare your successes and failures to others. Everyone is unique, and what works for some may not work for others.
Work out randomly. Work out regularly to maximize the benefits you'll reap from a consistent fitness routine.
Give up. Consider talking with a friend on the blog in times of discouragement. We are all here for each other.
Forget to reward yourself on occasion.
Goals must be:
Measurable
Written down
Set for a specific deadline
Realistic
Every time I plan on losing weight or gaining lean muscle mass I write down the entire diet, exercise and supplement female fitness routine I follow. I can then look back and see what has helped, what has hindered my progress and what needs to be tweaked.
I know you have heard this before ladies but have you actually done it? I always agreed with this mindset but never knew the full power behind goal setting until I followed what I am now asking you to do.
SET A DEADLINE, MAKE IT HAPPEN!